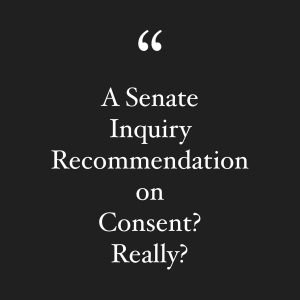 In 2017, the Senate Inquiry into the number of women impacted by pelvic mesh implants had a Recommendation actually spelled out how a medical practitioner should undertake informed consent.
Does that not give one pause? I mean, shouldn't that always be happening?
Let me quote the recommendation that appeared in the final report of the Senate Inquiry1 into the number of women impacted by transvaginal mesh implants and other matters:
The committee recommends that the Australian Commission on Safety and Quality in Health Care prepare guidance material on effective informed consent processes, with a view to ensuring that a dialogue between a medical practitioner and patient should:
clarify the rationale for the proposed treatment;
discuss the range of alternate treatment options available and their attendant risks and benefits;
discuss the likely success and potential complications of the recommended treatment as they relate to the individual patient;
provide an opportunity for the patient to ask questions; and
confirm that the individual patient has understood the information discussed.
It does seem incredible that it was felt that there was the need to spell out how to do it, but in case anyone wanted to know how, here is some guidance.
To be fair, consent is a vexed issue, and there are many barriers to it working well. To quote a recent article Medical Republic2, "There are about 60,000 things that can go wrong with a human body, 6000 drugs and 4000 procedures you can do – patients can't be across that… Healthcare is complex and cannot be simplified."
It's true that we don't know what we don't know – but being empowered to ask can really change how a consultation proceeds. The Five Questions to Ask Your Doctor (Choosing Wisely) and the Question Builder Tool (Australian Commission on Safety and Quality in Health Care) are two resources that can help put you back in control of what you say yes to, and just as importantly, what you can say no to.
It's your body – no one else has anywhere near the stake in the outcome of a health care episode as you do, so by all means, ask.
1:https://www.aph.gov.au/Parliamentary_Business/Committees/Senate/Community_Affairs/MeshImplants/~/media/Committees/clac_ctte/MeshImplants/report.pdf
2: http://medicalrepublic.com.au/patient-centric-care-beyond-buzzwords/21578/