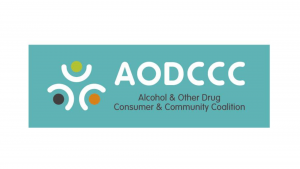 HCC hosted the Transitional Alcohol and Other Drugs Advisory Group (AODAG) from 2015 until  July 2018 when a newly incorporated organisation was established – the Alcohol and Other Drug Consumer & Community Coalition, (AODCCC). This association is a first in WA and there is nothing like it nationally. WA has a unique opportunity to ensure the AOD voice is heard at the systemic level as well as at service level.
As noted in the July 2019 update below, Board Communiques will be regularly shared. Here is the Board Communique 5th August 2019
July 2019 Update
The AODCCC would like to take a moment to provide an interim update. We have been taking positive steps toward our establishment as an independent organisation and wish to acknowledge the support and guidance we continue to receive from the community at large and the human services sectors of Western Australia.
Funding
The AODCCC has received a $277,420.00 establishment grant from the Mental Health Commission under an agreement which runs until the 30th of June 2021. This is a momentous achievement that has yielded from what has literally been years of dreams and work from a vast amount of volunteers and agencies committed to improvements in the AOD space.
The first 12 months funding relates primarily to internal development such as:
 developing the organisational framework;
 determining governance and legal arrangements;
 creating policies and procedures;
 securing initial operational staffing; and
 infrastructure priorities.
The second 12 months funding relates more to external engagement and continued capacity building.
Board
At our first inaugural AGM last year, the following 12 Board members were elected: Chairperson – Juanita Koeijers, Vice Chairperson – Shannon Dixon, Treasurer – Virginia Catterall, Secretary – David Shakespeare, Ordinary Members (in alphabetical order of first name) – Andrea Barnard, Bree Murray, Bridget Silvestri, Charl Van Wyk, Christine Richardson, Grant Smith, Howard Lance and Louise Grant. Since then, there have been a number of changes. Five board members have resigned for reasons ranging from personal through to concerns related to the transition of the AODCCC from a voluntary organisation to a funded body.
Juanita Koeijers stepped down from the Board in June to take on the role of Project Lead. The Project Lead position has not been advertised for many reasons including that it is a fixed term position and the work being done is to set up the processes and policies for the organisation in order for it to function and appoint a permanent organisational executive. When this occurs, the position will be advertised.
Previously the Vice Chairperson, Shannon Dixon has moved into the position of Chair, the Secretary is now Grant Smith and we have been operating in the absence of a Treasurer. As per clause 38 of our Rules however, we have sourced the services of a qualified bookkeeper whose contract will be tabled for endorsement at our next meeting. One returning member and one new member have been invited to fill vacancies on the board, also under clause 38 of the Rules, and both will be present at our next meeting.
Information about our Association, including the details of who is on our Management Committee, is always available through the relevant government portals such as the Australian Business Register and the Australian Charities and Not for Profit Commission registries.
Hosting at HCC
Establishment is a complex and busy time for any new organisation and we continue to seek advice and counsel from experienced leaders across the sectors. We are committed to the development and implementation of best practice governance and open and accountable communication with our members. In order to keep members informed, a regular e-news update and a Board Communique will be provided. As the Health Consumers Council is providing a hosting and support role as the AODCCC establishes itself, these communications may be posted to this page of their website until we have one of our own.
2019 AGM
Our AGM, where a full annual report on all activities and expenditures will be provided, is due to fall in November 2019 and we will be discussing the date for this at our next meeting. Stay tuned for AGM date.
Contact Us
As always, we welcome your questions, comments or feedback. In the past this has been dealt with by Juanita who has managed the bulk of the communications from the AODCCC however now that new roles are being established any correspondence to the Board will need to go through the Secretary, Grant Smith, via aodcccsecretary@gmail.com, who will bring these matters to the Board for a formal response.
We welcome you to join and be a part of this unique endeavour. Feel free to share this web page within your personal and professional networks to others aligned with the AODCCC's purpose. Questions and enquiries may be directed to email aodcccwa@gmail.com or the Facebook page
Background
Phase 1
In 2015, the Health Consumers' Council was funded to co-ordinate a project to build on the recommendations from the November 2014 Forum, Improving Consumer Involvement in the Alcohol and Other Drug Sector.   An Alcohol and Other Drug Advisory Group (AODAG) was set up to oversee progress. Membership of the AOD AG was government, not for profit organisations and consumers. The quorum noted that 50% of consumer members needed to be in attendance for the meeting to progress in recognition of their membership as vital to the legitimacy of the work. The project was undertaken by a consumer consultant and overseen by the AOD AG  to specifically address two of the  Recommendations, listed below.  You can read the full document here.
to develop a common set of principles for engagement
outline best practice engagement strategies for the sector
Phase 2
In 2017 the WA Primary Health Alliance funded HCC to support the ongoing work of the Alcohol and Other Drug Advisory Group (AODAG), a transitional group to oversee a new project entitled "Improving Consumer Involvement in the Alcohol and Other Drug Sector".
A key vision of the AOD AG has always been to ensure the voice of the AOD consumer is heard at state and federal policy level, as well as at the service provision level. We held an AOD Consumer Peak Think Tank on 20 February to seek feedback on what had been done so far, whether people wanted an incorporated AOD Consumer Peak, what training they would like to see to support their role as consumer representatives and how they wanted to be involved in the next steps. Consumers included current users, service users, potential service users, family members and supporters. Background information about the forum can be found here and the project report is available here.
Further consultation was undertaken between March and July 2018 to confirm the incorporation of an independent consumer organisation. By July 2018 incorporation was approved and AODCCC was established.