Patient Experience Projects | 2017
How are you improving the Patient Experience? Posters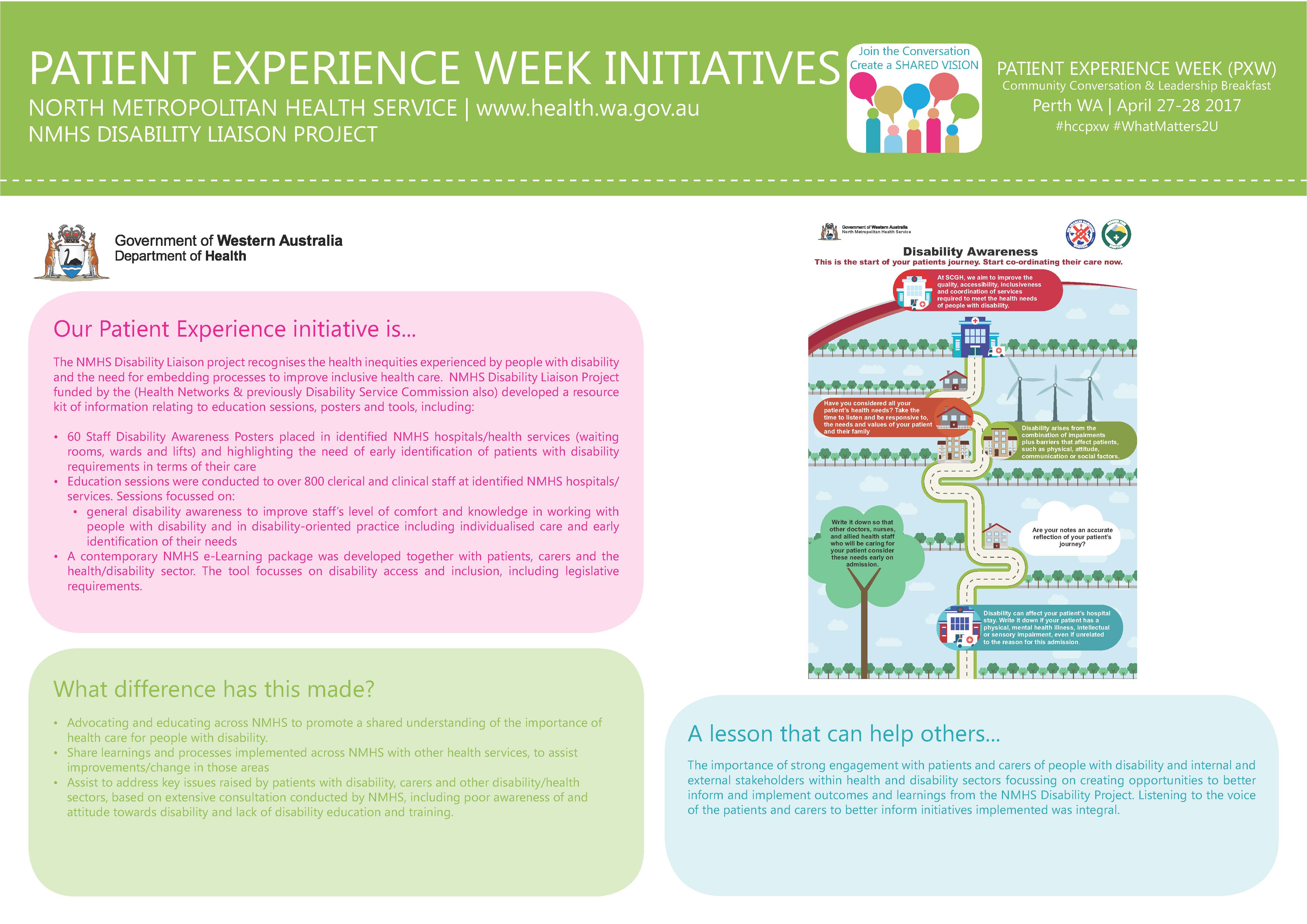 Health Consumers' Council (WA) invite Hospitals, Health Services & NGO's to share with other health services, health professionals and consumers how they provide positive patient experiences. We have designed an online form or editable PDF for you to answer three simple questions:
Share an initiative that ensures what matters to your patients/consumers is leading to improved patient experience.
What difference has this made?
Share one lesson you have learnt.
The contents of this form will be used to create a poster (A2) these will feature on the HCC website and will be made available to you as a PDF. They will also be displayed during the Patient Experience Week 2018. Submissions accepted until April 2, 2018.
Click here to complete the online form
or
Download an example poster here
What Matters 2 U? Stories…
Ask yourself as a consumer, what matters to you in Healthcare?
Health Consumers' Council wants to start a new conversation about the Patient Experience. We acknowledge expertise is found at both ends of the stethoscope. Join the conversation by answering two simple patient experience questions in this survey and share matters to you about Patient Experience.
At our End of Year Celebrations in 2016 we asked attendees to write on a card 'What matters to you in healthcare?' and hang it on our tree. Here are some of their responses: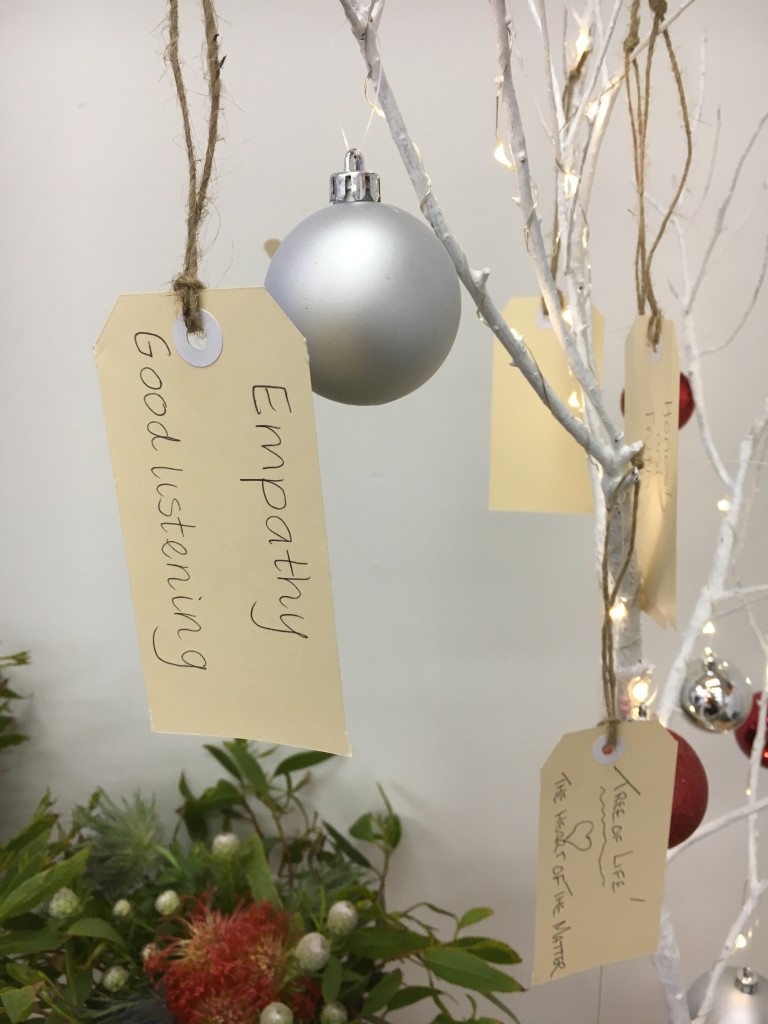 Staff Stories
Our staff have shared some of their stories about what matters to them in health care. Here are some staff stories, for more visit the Health Consumers' Council Facebook page here.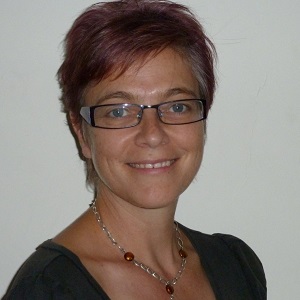 What matters to you? – HCC Staff Story
'My first health job was as an Advocate at Health Consumers' Council. On my first day ten years ago, Senior Advocate, Maxine Drake and I visited a woman on a locked psychiatric ward. She was fretting for her children in the care of an older sibling. After a discussion and negotiation with the Psychiatrist she was discharged home with a care plan. I still believe there were cultural considerations that were ignored when she was admitted. I'll never forget her face, the delight, the relief. Individual advocacy is one of our most powerful social equity tools.' Pip Brennan, Executive Director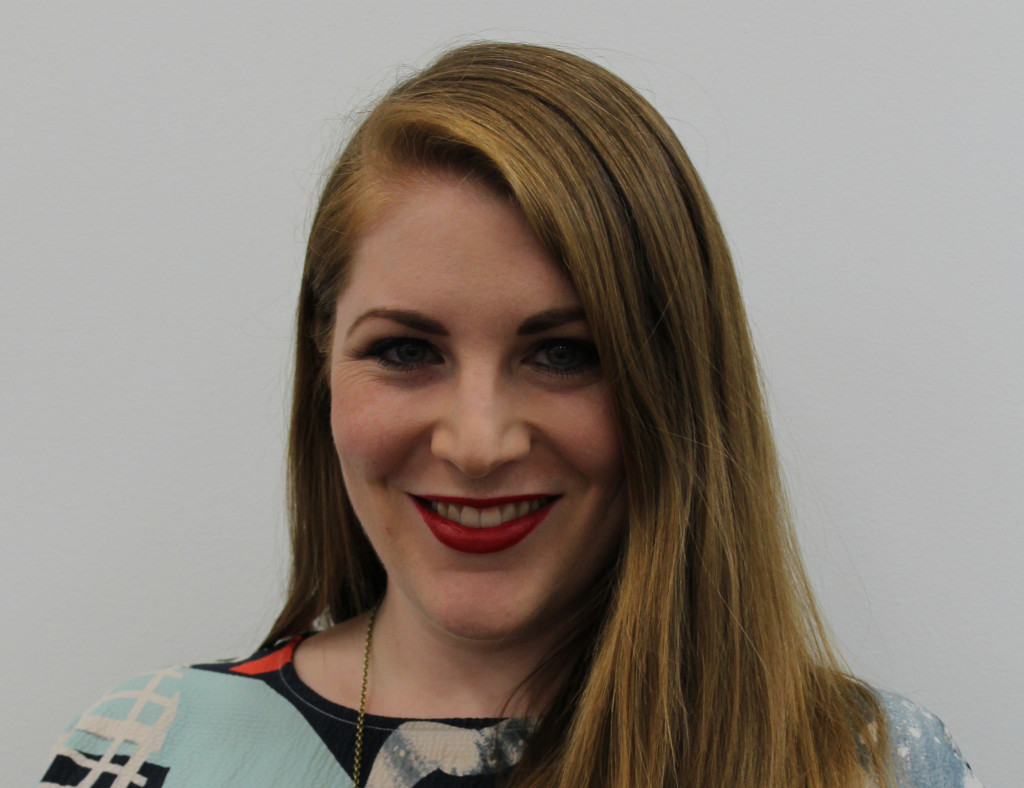 What matters to you? – HCC Staff Story
'2 years ago, I answered a call from a consumer living in NSW. She asked if there was an equivalent individual advocacy service in her state. I wanted to help, but the individual advocacy service is unique to WA. I gave her the details for Health Consumers NSW, who offer systemic health advocacy. She shared her story with me. At the end of the call she said, 'I know you can't help, but thank you. You're the first person who took the time to listen.' It made me realise even being heard by one person can make a difference.' Lucy Palermo, HCC Marketing & Communications Coordinator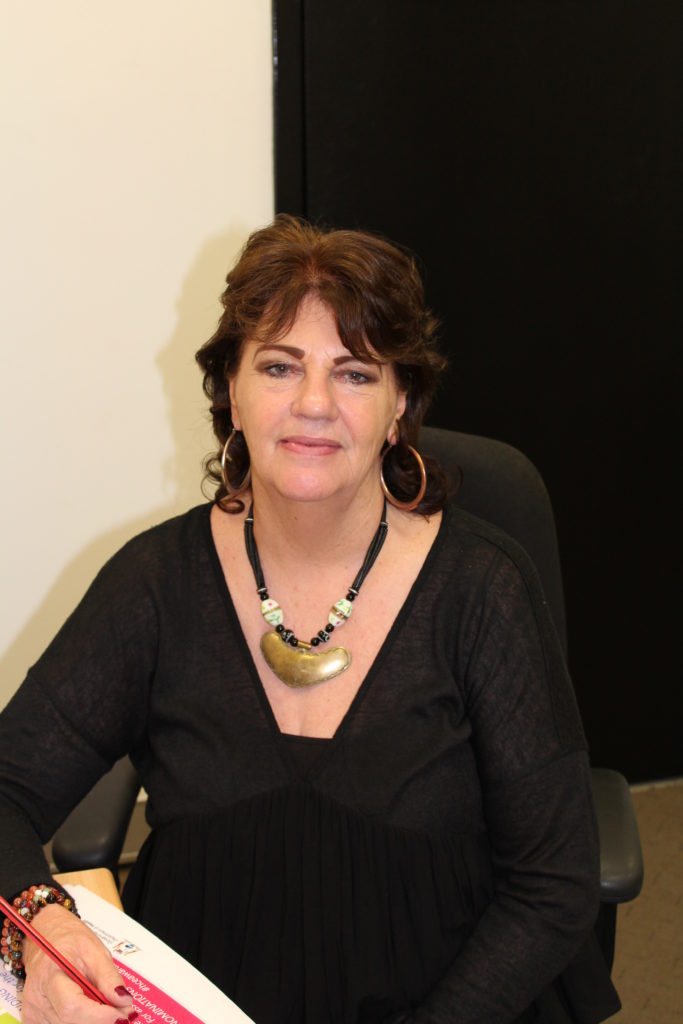 What matters to you? – HCC Staff Story
'One of the first cultural competency workshops I delivered for HCC was at a public hospital. There was some resistance shown by several attending staff members, this can happen, it can be uncomfortable to have your perceptions put under scrutiny.
Amongst attendees was a young African woman. At the end of the workshop she thanked me privately and proceeded to tell me how she had been stereotyped when admitted to the same hospital as a patient. She was a qualified nurse who spoke English fluently, on admission nursing staff had not spoken to her, it was assumed she did not speak English because she was wearing African attire. She was extremely happy the workshop had been run and encouraged me to continue.' Louise Ford, Consumer & Community Engagement Manager
What matters to you? – HCC Staff Story
'In 2015 I advocated for an elderly lady who had been admitted against her will, into a psychiatric facility following a psychotic episode. She was assessed and diagnosed with Alzheimer's Dementia. She was told she lacked capacity and would need to reside in a nursing home. Guardianship and Administration orders were made, with this she lost all decision-making authority. The consumer strongly disputed the diagnosis and expressed how she felt powerless and unheard. I met with the consumer on several occasions to ascertain the situation and later organised an independent psychiatric opinion. This second assessment took place at a time when the consumer felt settled as opposed to the earlier assessment when she had been unwell. It was deemed that the consumer showed no signs of having Alzheimer's Dementia and that the reason for initial admission was quite probably an acute episode associated with thyroid dysfunction. We submitted a SAT review application and made a strong submission to the tribunal that argued the case. The review concluded that this consumer had ample capacity to make reasonable decisions and that the independent second opinion revealed no evidence of Alzheimer's Dementia. The consumer returned home and could disengage with mental health services. Two years later this consumer remains living independently at home and is managing her own affairs with great success.' Carly Parry, Senior Advocate
Patient Experience Projects | 2016
Help improve patient experiences by sharing your own story
HCC will share your patient experience story on our website, social media channels and on our Patient Experience section of our website. It will also be shared with the WA Primary Health Alliance (WAPHA) to be co-published on their Engagement HQ platform. This platform support the community in having a say in our primary health services. Engagement HQ includes a 'stories' section, designed for gathering and sharing health consumer stories. To share your patient experience story please complete the online form and the Consent to display and share information form and send with your story to info@hconc.org.au or call (08) 9221 3422 for more information.
Pictures from the April 28 and 29 Events
On the days of the Patient Experience Events held on 28 and 29 April 2016 in Perth, we invited attendees to have a picture taken in the frame 'Connecting for the Patient Experience – We are ALL the patient experience'.