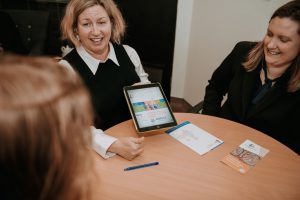 Making the step from theory to practice in consumer engagement can be difficult. HCC is committed to supporting people working in health and social care organisations to involve consumers, carers, community members, clients and service users meaningfully in planning, developing, implementing and reviewing policies and services.
Experienced Health Consumers' Council staff are available to talk to you about your current projects or concerns and provide advice and suggestions about how to best engage with consumers. Our team have experience and training in:
facilitation (both in-person and online)
engaging with specific audiences such as Aboriginal people, people with disabilities, and people from culturally and linguistically diverse backgrounds
developing and delivering training programs for staff and for consumers, carers and community members
developing and implementing engagement strategies and plans
coaching and mentoring staff and consumers, carers and community members.
When should you reach out?
Before you start to scope your project

it can be helpful to think about what timeframes and resource requirements you might need to be able to meaningfully engage with consumers, carers and community members

Once the scope is confirmed

we can advise you on ways you can engage with your target groups

As you are running your engagement activities

we can help you to think through how best to get input from your target audiences
we can be a sounding board for you to help you sense-check your plans
we can be a place to debrief so you can embed the learning you've had from the work.
How we can help
To support you to meaningfully engage with consumers, carers, community members and others and make it a positive experience for everyone we offer a range of options (some of these require a fee):
pro-bono access to the online Health Engagement community of practice where you can connect with other staff and consumers, carers and community members
personalised coaching where staff from HCC can walk alongside you as you develop and implement your engagement activities

this is a great way to ensure that your team develop the learning and build skills for future activities
this is based on an hourly rate of $250 (ex GST) (discounted to $150 (ex-GST) for any staff within WA Health as HCC is partially funded by the WA Department of Health)

facilitation of online or in-person (or hybrid, where both options are offered at the same time) consumer, carer and community engagement activities

the fees for this vary depending on the specific requirements

training for staff and/or consumer, carer, community members, clients or service users on the practicalities of consumer partnership and engagement
facilitation of cultural diversity sessions which can help build your team's capacity to support a more equitable health service.
If you'd like to talk to the team about any of this work, please email clare.mullen@hconc.org.au and we will be happy to discuss your requirements with you.