Sustainable Health Review Implementation – Community Conversation Part 2
The Sustainable Health Review (the SHR) was published in April 2019. This session is an opportunity for consumers, carers and community members to reflect on the updates that were presented in a community conversation on 19 October and discuss how they and other consumers, carers and community members can be involved going forward. You can review all the presentations and materials from this session on this page. There's no need to have attended the first event but you will get more out of it if you have had a chance to watch the replay. The Community Conversation Part 2  will take place by Zoom. You can join online, or by dialling in from a landline or mobile phone.
Diversity Dialogues: Mental Health and the CaLD Youth Community –

11 November 2020

The discussion is part of HCCs Diversity Dialogues series.  Diversity Dialogues comprise a panel discussion where the panelists from a range of cultural backgrounds share their knowledge and (lived) experiences around culturally aware practice, building culturally inclusive services and discussing the importance of cultural awareness in best practice.

Our panel will discuss some of the complex problems faced by multicultural youth in Australia in regards to facing mental health issues and navigating treatment with family and health service providers.  More information and registration here.
Health Consumers' Council 2020 Annual General Meeting at Burswood on Swan – Mon 23/11 from 4pm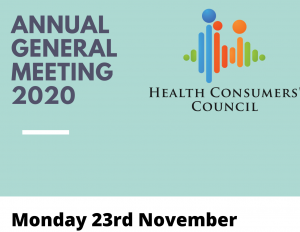 Join us for the 2020 HCC AGM. Registration will be from 4pm, and at 4.30 we will convene a Panel Discussion with the Honourable Roger Cook, Deputy Premier and WA Minister for Health, Zak Kirkup, the Shadow Minister for Health, Rachel Siewert, Health Representative for the Greens, and Mia Davies from the National Party. The Panel Q&A will address the key theme, "What's your vision for consumer and community involvement in health?"
Please note that the event details may be subject to change.Click here to RSVP
We will then hold our AGM where we will
Accept the minutes of the last AGM

Accept the Annual Report

Accept the Auditor's report

Confirm the Management Committee Members (we have one position with a re-nomination)
If you are not a Member you can still register to attend, but you will not be able to vote. If you ARE a member and are not able to come, but would like to nominate a proxy, please complete this online form.