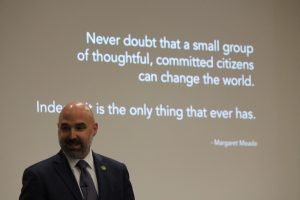 Consumer Representative Sundowner
Tuesday 12th June 2018, 5-7.30pm
HCC Invites all Community Advisory Council (CAC)/Consumer Advisory Groups (CAG) members to a sundowner to thank you for your efforts as a consumer representative. CACs/CAGs are an important part of the continuous improvement of the health care system and we believe you should be congratulated!A relaxed, informal event with nibbles and drinks supplied. A great opportunity to meet and share stories with other consumer representatives.
School for Change Agents
Join the movement of passionate change agents to make a kinder, safer healthcare system. This inspiring online program is available free of charge here, or you can lodge an Expression of Interest to join a group of us to explore the program together over five weeks. Minimum of 40 required to make this happen.
We will also be out and about joining these existing events:
NAIDOC Week 8th – 15th July 2018
Rockingham Seniors & Carers Expo October 2018
If you would like further information, please call us on 08 9221 3422