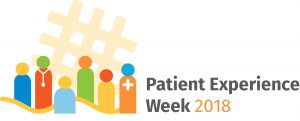 Patient Experience Week is a global event to celebrate the people who impact on the patient experience every day. It is held in the last week of April each year. This is our third year of running Patient Experience Week, and we are mixing things up a little. Instead of holding all the events in April, we held three events in April and will hold a fourth in November. We want to ensure that Patient Experience is not just a day, but a movement!
The uniting theme is kindness. Our 2018 Patient Experience logo references fabric. Fabrics come in all kinds of textures and colours, thicknesses and patterns. Some are traditional, others are contemporary. Some are as delicate as gauze while others are hard wearing and durable. Weaving is an integral part of fabric and we see our society as being woven together through our engagement with each other. Each engagement provides an opportunity to weave our fabric more strongly and more beautifully and to create a society where the warp and the weft continue to hold each other together.
APRIL PATIENT EXPERIENCE WEEK WRAP-UP –
See also our special Patient Experience edition of Week Health Matters
…and stay tuned for videos, audios and photos courtesy of our kind volunteers, Hope and Robert Klienfelder. We will post them once they are edited and good to go.
Friday April 27th, 7-9am
HCC partnered with Child and Adolescent Health Service and the WA Primary Health Alliance to host a Patient Experience Week Breakfast. This event brought together clinicians, health professionals, consumers, carers and community to hear from Lucy Mayes, the author of Beyond the Stethoscope.
Friday April 27th, 9.30-1.30
HCC and Child and Adolescent Health Service celebrated Patient Experience Week with a mini-Gathering of Kindness. Dr Catherine Crock from the Hush Foundation, and co-founder of the Gathering of Kindness attended via video-conference.  Lucy Mayes, Patient Opinion's Michael Greco, and World Kindness Day's Michael Lloyd Wright convened a through provoking panel discussion on what could we do to create a kinder health system.
Health Consumers Council Excellence Awards
Friday April 27th 2-4pm
We closed out the day with the announcement of our Health Consumer Excllence Awards.
Tuesday 13th November 2018 – Achieving Equity in the Patient Journey 
On Tuesday 13th November 2018, World Kindness Day,  we held a special event with a focus on achieving equity in the patient journey for people from new and emerging communities and those for whom English is not a first (or second, or third) language.