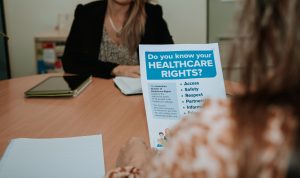 When something has gone wrong when receiving healthcare in WA, and people are having trouble getting answers, Health Consumers' Council can help by walking alongside them as they seek information and redress.
By informing and educating the community about health rights, we can help people advocate for themselves in the moment and reduce the chances of things going wrong.
And by ensuring the voices of consumers are heard at every level of decision making that impacts on the patient, we're helping to make sure decisions that affect patient safety are made with consumer perspectives front and centre.
Your generous support can make a significant impact on the lives of individuals, families, and communities across WA. By donating today, you are joining and supporting a community of people committed to empowering consumers, improving health services, and working towards equitable, person-centred, quality healthcare for all West Australians.
How your donation helps
Your donation helps us help WA consumers at every level.
With your support, we can:
Walk alongside more people who need help when things have gone wrong, ensuring they are aware of their health care rights and helping them get answers and redress so they can decide what action they want to take
Fund consumer participation in consultations, and ensure the voices that need to be heard are included in the conversation
Contribute to travel costs so that regional consumers are represented
Upskill consumers to become effective, engaged consumer representatives
Compensate consumers for their time when they help us develop training or workshops that will benefit the health system
Compensate consumers who share their stories with us, so that we can get more lived experience voices and perspectives in front of clinicians and policy makers
By clicking the "Donate" button below, you can securely make your donation and be part of our mission to ensure the consumer is at the heart of our state's health care system.
Together, we can drive positive change in health care.
Thank you
Every donation makes a meaningful impact on our efforts to improve health care in WA, and we want to thank you.
Donations over $100 will receive a thank you email from our Executive Director. Donations above $200 will, with your permission, receive a public thank you on our social media.
Donations of $2 or more are tax deductible.