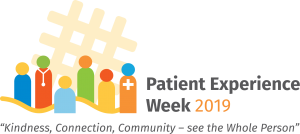 Our 2019 Patient Experience Week theme is "Kindness, connection, community: see the whole person" and will focus on the Aboriginal Patient Experience of the WA Health system.
This is in recognition of the fact that Aboriginal people make up 3.8% of the WA population, and yet have the greatest health needs of any group in the state.  The purpose of this event is to create an opportunity for Aboriginal health consumers and carers to share their stories and experiences in a collaborative setting, alongside staff from across the health system, to drive systemic change.  With a focus on Aboriginal culture and traditional healing methods, HCC aims to raise awareness of the elements that contribute to a positive experience of health and healthcare for Aboriginal people.
We are passionate about partnering with health services to create positive change. We know that the only way forward to achieve the health system we all want, is to work together. Therefore, each Patient Experience Week we announce the winners of our Health Consumer Excellence Awards.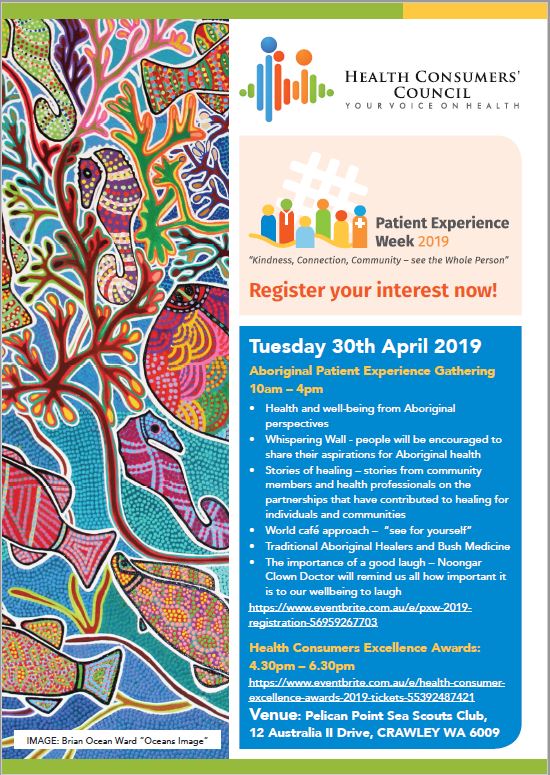 To register your attendance at 2019 Aboriginal PXW click on this link: https://www.eventbrite.com.au/e/pxw-2019-registration-56959267703
To register your attendance at the 2019 Health Consumer Excellence Awards, click on this link: https://www.eventbrite.com.au/e/health-consumer-excellence-awards-2019-tickets-55392487421
Patient Experience Week (PXW) is a global movement which began in the US with the Beryl Institute, it provides a focused time to celebrate accomplishments, re-energise efforts and honour the people who positively impact the patient experience every day.  The Health Consumers' Council of WA has been convening Patient Experience Week events since 2016.  In 2017 we were lucky enough to have the founder of the Beryl Institute, Jason Wolf travel all the way to WA to be our keynote speaker.
Elsewhere in Australia and internationally, events are led by health service provider organisations. Health Consumers' Council of WA (HCC) believes it is critical that consumers and community members play an active role in highlighting the importance of a positive experience of the health system.
Click on the links below to find out more: