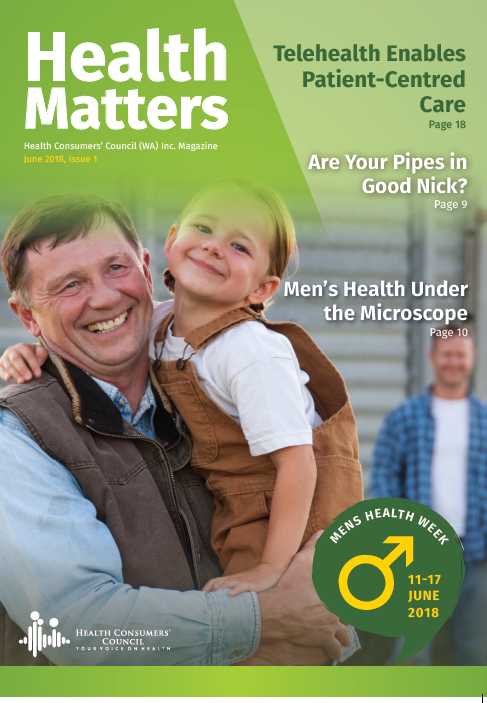 The Health Consumers' Council publishes Health Matters Magazine each quarter.
Current Edition Of Health Matters Magazine:
Men's Health Special
Previous Edition Of Health Matters Magazine:
Health Matters Issue 1 2018 "Patient Experience Week Special Edition"
Advertising in Health Matters Magazine
Health Consumers' Council (WA) Inc (HCC) has produced Health Matters quarterly magazine since its inception in 1994. Since mid-2015 HCC has taken a new approach with each issue focusing on a theme. Articles are sourced from key stakeholders across WA and Australia to have a balanced view on each topic. The theme for the next issue is promoted in the previous issue, a call for features goes out through HCC's media channels and key people are approached to contribute. Click here for more information on how you can advertise with us or contact the Health Consumers Council on (08) 9221 3422.
Health Matters Reach:
Direct marketing to an individual membership of 900+ based in WA including key people in WA health, for example the WA Director General of Health, WA Minister for Health, Executive Directors & CEO's of NGO health organisations
Promoted using boosted posts through HCC social media channels Facebook and Twitter to a combined average reach of 5K per month
Used as promotional material at all Health Consumers' Council events, partnership events and external events where HCC has a stall ( 400 copies of each issue taken to approx. 16+ events annually)
All past issues feature on HCC website
An article each fortnight features in HCC's fortnightly eNewsletter to 800+ recipients with an average open rate of 38%, higher than the industry average of 18.33%
Health Matters Magazine Article Submissions
The Health Consumers' Council are currently seeking article submissions for our 3rd Issue of Health Matters Magazine 2017. This issue will focus on 'Men's Health'. However other health related articles will be accepted. Articles should be no less than 500 words and no more than 800 words, plus high resolution photographs if available (attached as a JPG or PNG file). Please send your submissions to info@hconc.org.au
Previous Editions Of Health Matters Magazine:
Health Matters Issue 2_2017 "Womens Health"