Current Edition Of Health Matters Magazine: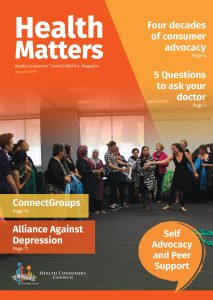 Health Matters August 2019 – Self Advocacy and Peer Support
The August 2019 edition of Health Matters is dedicated to the very important topics of self-advocacy and peer support.
Self-advocacy and peer support are two elements that are closely connected with informed consent. It is only by advocating for yourself, learning as much as you can, and feeling OK about asking questions that you can get the best health care.
Peer support can help with this on several levels – there is nothing as powerful as seeing someone further down the recovery journey, and be able to talk about the lifestyle impacts of your condition with someone who really gets it. Peers are also a great source of information, often providing links to the latest research, providing suggestions for doctors who are familiar with your issues, and reminding patients of the importance of advocating for their own health.
Informed consent is a fundamental consumer right. And to exercise that right, we need to know that a) it's OK to ask questions, and b) it's also OK to say "can I think about this" or even "no" to suggested treatments.
I sincerely hope the articles in this edition are useful for you, and that they spark in you the curiosity to become more invested in your own health care. No one has more at stake than you when it comes to your health, and being informed can put you back in control of what you say yes to, and just as importantly, what you can say no to.
– Pip Brennan, Executive Director, Health Consumers' Council
Previous Editions Of Health Matters Magazine:
Health Matters April 2019 – Patient Experience Week
Health Matters December 2018 – Celebrating People in Healthcare
Health Matters Issue 3 2018 – Culturally and Linguistically Diverse Edition
Health Matters Issue 2 2018 – Men's Health
Health Matters Issue 1 2018 – Patient Experience Week Special Edition
Health Matters Issue 2_2017 – Womens Health