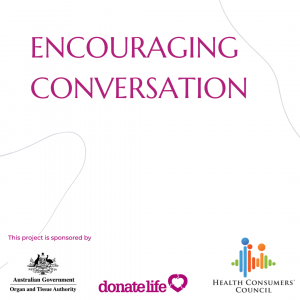 Health Consumers' Council received a 2021 Community Awareness Grant from the Organ and Tissue Authority to undertake a project aimed at empowering Western Australians to increase their knowledge of the benefits of organ and tissue donation and transplantation, to encourage family discussion and know each other's donation decisions, and to register online on the Australian Organ Donor Register.
We want West Australians to be able to make informed decisions about organ and tissue donation, and that means ensuring they can access the right resources to help them make the decision, register, and have that conversation with their family.
Our focus is on increasing awareness and encouraging conversation among Aboriginal people and people from Culturally and Linguistically Diverse backgrounds. We look forward to hosting community conversation over the coming months to learn more about what the community already knows about organ and tissue donation, what they'd like to know, and what resources would be most beneficial for them.
If you are interested in the insights from these community conversations, please send an email to info@hconc.org.au
Did you know?
Right now in Australia, there are about 13 million people eligible to register as organ and tissue donors, but they haven't signed up.
The HCC team proudly took part in The Great Registration Race for DonateLife Week from 25 July – 1 August, to help turn this around. We're encouraging everyone to check if you're registered at https://www.donatelife.gov.au/join-register
You can find DonateLife multicultural and faith resources here and Aboriginal and Torres Strait Islander resources here.
You can also read our DonateLife Week media release.