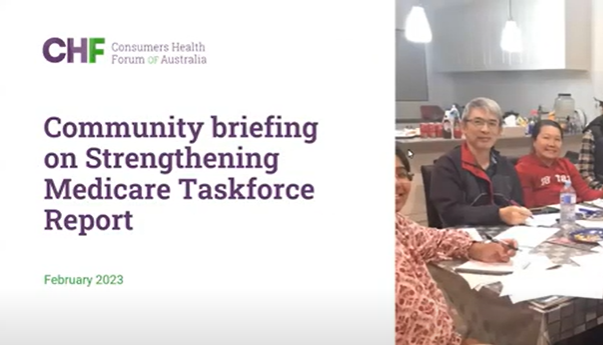 There is a lot of reform taking place at the moment in the area of primary health care and how this interacts with hospital and community care.
As the needs of Western Australian communities may differ from those of other regions, it is essential that the voice of WA is heard in this reform work. There are several opportunities for WA consumers to participate in this important work, including watching a replay of a recent community briefing by the Consumers Health Forum (CHF) on the Medicare Taskforce report or registering for the upcoming session to inform their feedback on the report, which will be held on March 22.
Background
In early February 2023, the Federal Government released the "Strengthening Medicare Taskforce" report – Elizabeth Deveny, CEO of the national Consumers Health Forum (CHF) was the consumer voice at that table. Learne Durrington, CEO of the WA Primary Health Alliance was also at the table, representing Primary Health Networks.
Last week, 3 February, CHF held a community briefing session on the report. You can watch the recording of that webinar here.
CHF will also be holding another session on 22 March (2:30 pm AEDT) to inform their input to the next stage of this process. If this is an area of interest to you, we encourage you to register here: a pre budget follow up webinar to talk about the key messages for consumers that CHF want to promote to decision-makers and the wider community.
Upcoming HCC consumer representative networking session
On 31 March (10 am – 12 pm AWST), HCC will be hosting the first of our consumer representative networking sessions for 2023. We're delighted to advise you that Elizabeth Deveny from Consumers Health Forum in Canberra will be joining us virtually at that session so we'll have a chance to explore the implications for WA with her directly. Register here.
~ Clare Mullen, Deputy Director, HCC