Consumers' Experience of Sexual Health and Blood-Borne Virus (SHaBBV) Services
Over 2020-2021 we convened a consumer committee to focus on developing a consumer-led evaluation process of our state's SHaBBV services.  As part of these conversations we asked for help from SiREN researchers who undertook a rapid review of evidence they had undertaken in relation to:
1. Consumer evaluation of current SHABBV services in Western Australia (either NGO or government/hospital)
2. Consumer insights as to why they do not access SHABBV services.
A summary of the Rapid Review paper is included here.
We met again in April 2021 – minutes of that meeting are here and the key next step was to meet with WA Health to talk about funding for consumer led evaluation initiatives. We are excited to announce we have been invited to submit a joint project proposal with Health Consumers' Council and SIREN to co-design evaluation of services funded by WA Health. In other words, if they are being funded by WA Health, they will provide a report back on outcomes important to consumers. We will post updates on this page when they are available.  We summarised the whole of these series of conversations in this one pager.
Stigma e-learning module
Meanwhile we are also very excited to announce that WA Health have committed to creating an e-learning module on stigma. This project is starting immediately – we will post updates here when available.
Background
The WA Sexual Health and Blood-borne Viruses Advisory Committee (WA SHaBBVAC) assists the WA Department of Health's Chief Health Officer under Part 2, s.33 of the Public Health Act 2016. The WA SHaBBVAC includes members from non-government organisations, health service providers, researchers, policy-makers and three consumer representatives. You can read more about this Committee here. There is a consumer portal you can check out here.
HCC is working collaboratively with the three consumer members to develop a strategy to ensure a wider consumer voice is brought into the SHaBBVAC meetings.
We met in December 2019 and again in February 2020 and agreed that the most effective next step is to ensure that outcomes for consumers are captured as part of the process of reporting on the Department of Health's suite of Sexual Health and Blood Borne Virus strategies.
We convened a meeting on 31st March 2020 to create a Consumer Alliance of non profit organisations and grass roots consumers.
An identified next step from this session was to convene a grassroots SHABBV consumer session to gather together people in the community, reaching out beyond the services to those who may not access current SHABBV services. The session explored how to engage with a wider group of people, and what kind of services they might like to see. This 1.5 hour session was facilitated by HCC and a summary of the session will be posted here soon.
A second meeting was held with the Sexual Health and Blood Borne Viruses Consumer Alliance on 5th May which noted as a key action that the membership of the group needs to be consumer only, to meet monthly and progress the consumer evaluation of services. Quarterly meetings will be held with consumers and NGOs together. This is all being established currently (July 2020)
Staying in touch with the project
Consumers' Experience of Sexual Health and Blood-Borne Virus (SHaBBV) Services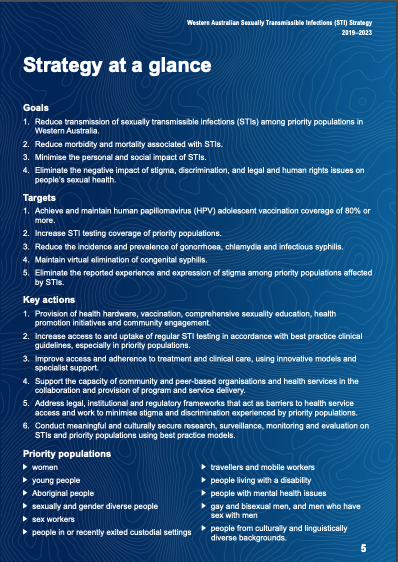 Since 2018 the Health Consumers Council has co-chaired the newly formed Sexual Health and Blood Borne Viruses Advisory Committee, convened after the new Health Services Act was established.
You can read more about this Advisory Committee here.
From 2019, there are consumers also sitting on this Committee, and this page is designed to provide relevant updates.
You can contact us on info@hconc.org.au if you require any further information.