COVID-19: WA updates and information
If you suspect you may have COVID-19, call the Coronavirus Health Information Line on 1800 020 080.
For the latest WA Government information and advice, visit wa.gov.au/government/coronavirus-covid-19
Translated information and advice is available here.
You can also view a snapshot of COVID-19 in WA, including case numbers and a link to the list of exposure sites.
Consumer rights with COVID-19
See below for relevant 'checkers' relating to Covid-19 in Australia.
Covid-19 Symptom Checker
The symptom checker is a triage tool that allows users to input their suspected COVID-19 symptoms and assess whether they should get tested or seek medical help.
Covid-19 Vaccine Side Effects Checker
The COVID-19 vaccine side effect checker allows users to check any side effects following vaccination and guides action to be taken such as seeking medical help.
Restrictions Checker
The national Restriction Checker shows restrictions for each state, as well as filtering via the type of restriction, such as 'gatherings and work', or 'travel'. The restriction checker is updated by Healthdirect Australia as restrictions change.
Facts on Vax Flyer
Proof of Vaccination
From the 31st of January 2022, WA will embark on establishing proof of vaccination in most places around the State. It's important you have your proof of vaccination available.
Services Australia Guide to getting proof of your vaccination status
If you are eligible for medicare
If you are eligible for Medicare
You can download your COVID-19 digital certificate and immunisation history statement using:
Your certificate can also be added to either your Apple Wallet or Google Pay on your mobile device, for easy access.
It can also be added to the ServicesWA app, which is combining digital certificates and the Safe WA app functions of scanning into places around the state.  See the video below for instructions on how to set this up on your smartphone.
If you are not eligible for medicare
If you are not eligible for Medicare you will need an Individual Healthcare Identifier (IHI) to get your proof online.
You have an IHI if any of the following apply:
you have a Medicare card
you have a DVA card
you're enrolled in Medicare.
If you don't already have an IHI, you can apply for one and link it using the IHI service through myGov
Select 'Services' or 'Link your first service'.
Select 'Individual Healthcare Identifiers service' and then follow the prompts.
For more information, visit the Services Australia website.
If you were vaccinated overseas
If you received an approved COVID-19 vaccine overseas (external link), you can have it recorded on the Australian Immunisation Register (AIR).
You can ask a registered vaccination provider (like a GP or pharmacy) to record your COVID-19 vaccinations on the AIR.
Once they've been added to the AIR, you'll be able to use your COVID-19 digital certificate or immunisation history statement as proof of your COVID-19 vaccinations.
Your document will need to be provided in English. A free translating service is available if you need help to translate your document. If you need an interpreter, please call the Telephone Interpreter Service (TIS) on 131 450.
If you've received mixed doses overseas of approved vaccines, you can also have these recorded to the AIR.
Once they've been added, you'll be able to use your COVID-19 digital certificate or immunisation history statement as proof of your COVID-19 vaccinations.
Getting proof for someone else
Getting proof of your medical exemption
If you can't get any of the approved COVID-19 vaccines for medical reasons, this will be recorded on your immunisation history statement and COVID-19 digital certificate.
We call this a medical contraindication. This means you can't have any of the COVID-19 vaccines.Your doctor will need to update your record on the Australian Immunisation Register (AIR) to say you have a medical contraindication.You can then use your statement or certificate as proof of your vaccination status, if it's needed.If you're recovering from a severe illness, your medical contraindication may only be valid for a few months. In this case, your COVID-19 digital certificate will show a 'valid to' date.

After this time, you'll need to either:
check with your doctor to see if you can now get a COVID-19 vaccine
ask your doctor to update your status on the AIR if your medical contraindication is still valid.
Check what some of the medical reasons are for getting an exemption from having a vaccine and who can provide this exemption.
Costs related to getting proof of vaccination
If you can't get proof online (which is FREE), your vaccination provider, such as a GP or pharmacist, can print your immunisation history statement for you.
The Australian Immunisation Register has advised proof of vaccination should be free from an ethical perspective of equitable access.  Despite this, private practices like GPs can charge a fee for printing the proof of vaccination.  
You can also call the Australian Immunisation Register on 1800 653 809 and ask for your statement or certificate to be posted to you. It can take up to 14 days to arrive in the post.  This is FREE.
If you have only had one dose and require proof, you can use your immunisation history statement. You can ask your vaccination provider to print this for you. This might include an email from your first vaccination at a state-run clinic, or documentation from a pharmacy or GP.
Multicultural COVID-19 Resources
For multicultural resources related to COVID-19, including translated resources and information, please click here.
COVID-19 Vaccines: Consumer information 
The Australian Government is rolling out the COVID-19 vaccine free for everyone in Australia, including all Australian citizens, permanent residents, and temporary visa holders.
The latest news and information on COVID-19 vaccines in Australia is available here.
To find out where you can get vaccinated visit https://rollup.wa.gov.au/ There are options for walk-in clinics, or you can make a booking at selected GPs and pharmacies.
Vaccine information in multiple languages is available here.
Learn how to find your vaccination record and how to get proof of your vaccination (also called a vaccination certificate).
Mandatory vaccinations
Based on the latest health advice, a mandatory COVID-19 vaccination policy for a majority of occupations and workforces in WA will be introduced in a phased approach.
The policy follows the existing mandates in place for workers in high-risk industries, including those interacting with people at an increased risk of being infected with COVID-19, or people who are vulnerable to the impacts of COVID-19, or where it is necessary to avoid catastrophic risk to the safety of the community.
The latest updates on WA's vaccine policy are available here.
Information on medical exemptions to mandatory COVID-19 vaccinations is available here.
COVID-19: Community services 
Community services play a crucial role in looking after our community. WACOSS are working together with members, other WA human service peak bodies and the WA Government to ensure you have access to the latest trusted information and resources.
https://wacoss.org.au/community-services-covid-19-resources/
Health Consumers' Council and COVID-19
Health Consumers' Council is committed to keeping our people, stakeholders and communities safe. In the current environment, COVID-19 vaccination plays an essential role in protecting the health and wellbeing of our staff, their families, our stakeholders, and the wider community.
The Health Consumers' Council COVID-19 vaccination policy will be available soon.
Visitors to Health Consumers' Council offices must comply with public safety measures, such as signing in with the SafeWA app and wearing masks, when required.
If you have any questions about visiting our offices, attending in-person meetings, or what our vaccination policy might mean for you, we encourage you to contact us on 9221 3422 or info@hconc.org.au
We will continue to be flexible in our approach to providing support to health consumers and the community, offering online and phone appointments, meetings and sessions where appropriate.
Fireside Chats
Virtual Q&A virtual sessions with WA Health Leaders
Our Fireside Chat series gives you the chance to hear directly from medical experts and have your questions about Covid-19 answered.
You can view recordings of our pervious sessions here.
The consumer voice and COVID-19
Consumers Health Forum – Consumer Commission – Beyond COVID-19
Our national peak consumer forum has instituted a Consumer Commission – a consumer-led thought leadership project on health policy after COVID-19. Workshops have been held with Consumer Leaders exploring key questions – see the timeline below and the Communiques from the four workshops held. The aim of the Commission is to develop a policy paper that will be presented to the Federal Minister for Health and relevant Government departments. CHF will also use the paper to shape their advocacy and policy work post the pandemic. HCC's Representative is Susannah Morris, and the full list of members is here.
Questions explored in the workshops:
1. Which, if any, measures introduced during the pandemic response should be retained to help address issues of inequity over the long term?
2. What policy areas, if addressed, are most likely to create equitable access to healthcare and reduce disadvantage across the Australian community?
3. What structural changes are needed to address the underlying causes of inequity in Australia?
4. What consultation and engagement mechanisms can best support disadvantaged communities and individuals to be involved in decisions that affect their lives?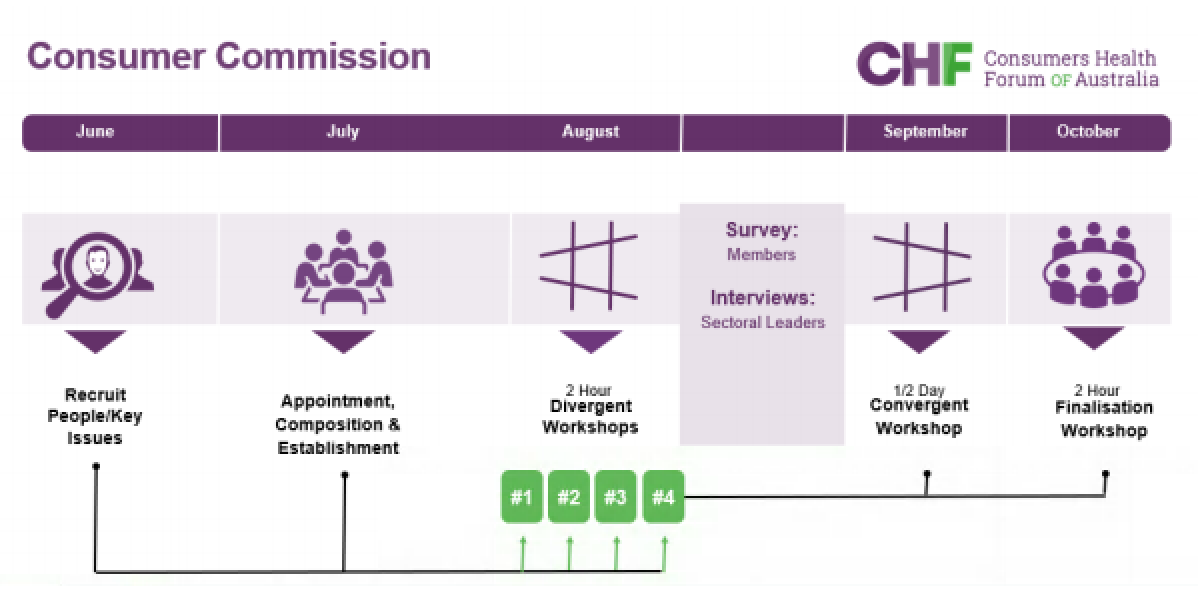 Communiques from workshops:
Statewide Network
If you would like to be a part of a statewide network of consumers and carers who are interested in being involved on COVID-19 responses, please register your details via the link below. We are still planning how we will organise this, but we can start collecting the names of those people who are interested. We imagine that this group will be a ready source of consumers and carers to call upon should COVID-19-related opportunities arise at short notice.
Register to join the COVID-19 Community of Interest
EVENTS TO DATE
Health Issues Centre convened an online event entitled Who Makes The Call? which focused on ethical decision making when care may need to be rationed. You can read the report here or watch a video of the event here.
The health consumer peak organisations across Australia worked with Health Issues Centre to bring together a second forum entitled Will Technology Save Us? focusing on both the COVIDSafe App and Telehealth. You can see the video of the event here. (Note it is one hour 11 minutes.)
SURVEYS AND CONSULTATIONS
COVID-19 – It only took a Pandemic…. Caring after COVID-19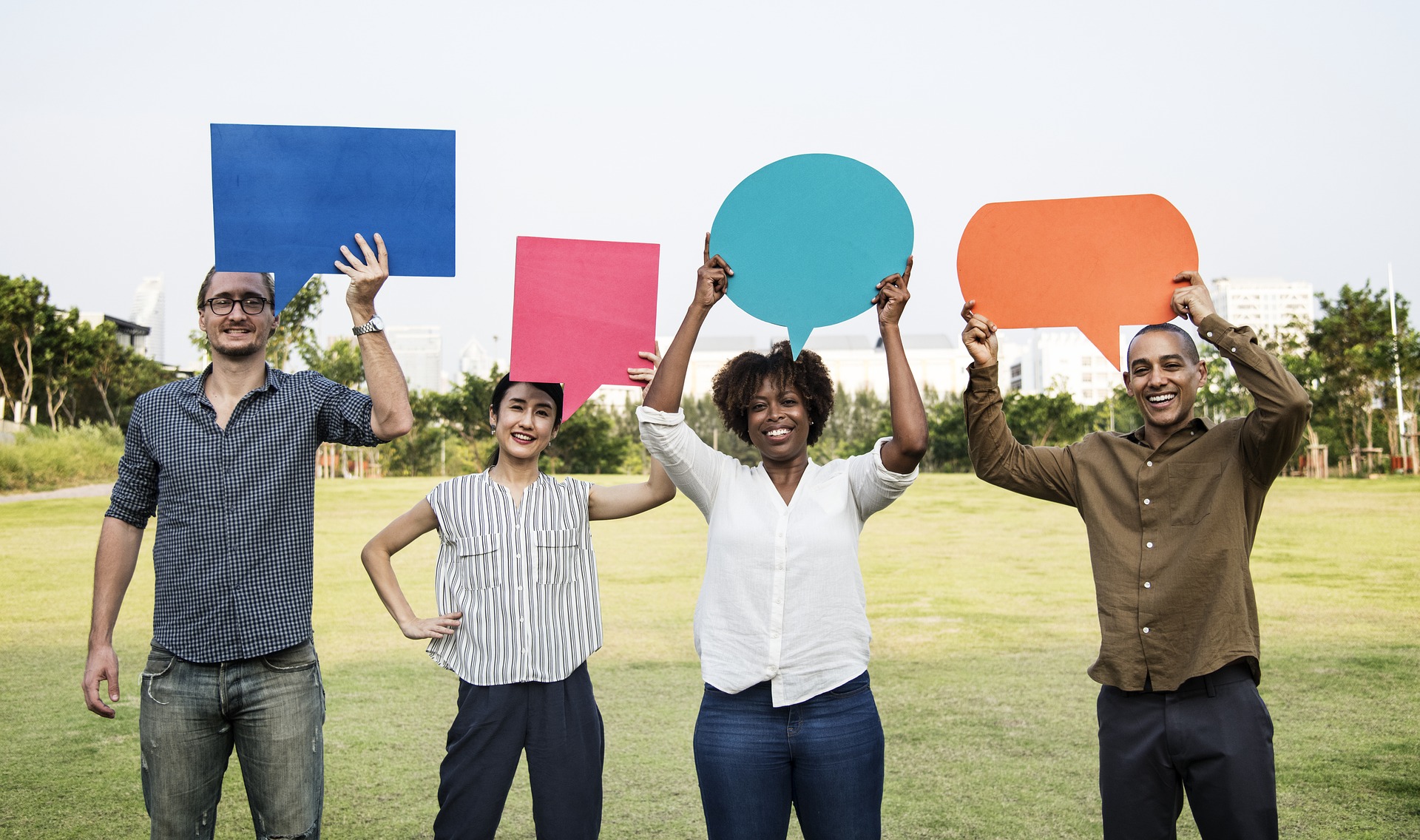 It's an understatement to say that things in our health system have changed during COVID-19. For example, Telehealth implementation has soared with the introduction of a Medicare Number for GPs, and also for outpatient appointments. Visitor numbers were restricted, although these restrictions have eased now. We undertook a survey to reflect on these questions in relation to changes in our health services –
What STARTED during COVID that we want to KEEP ON GOING?
What STARTED during COVID that we want to STOP?
What STOPPED during COVID that we want to RE-START?
What STOPPED during COVID that we NEVER WANT TO SEE AGAIN?
Att#3 It Only Took A Pandemic Responses
Community of Interest Survey conducted in April on elective surgery, consumer engagement and communications. Read the summary here.
A survey we conducted on 23/3 "How will you manage the Coronavirus" shows great confusion in relation to information about the virus, what they needed to do to avoid it, and fear of financial impacts. Read the summary here.
We repeated this survey and the results highlighted that as the situation has evolved, people have expressed concern about separation from loved ones, and impact on their mental health of social distancing. Read the summary here.
CARE IN THE TIME OF COVID-19
The WA Department of Health is conducting a survey in relation to people's experience of cancer care in the time of COVID-19. Responses will help inform the implementation of the WA Cancer Plan 2020-2025 and guide future initiatives across WA Health with the intention of improving the care of people diagnosed with cancer. Click here for their survey. Click here for their new resources – Cancer care during COVID-19 and COVID-19 Travelling for medical treatment.
There has had to be a range of changes made to clinical services, the up to date clinical guidelines are here:
https://ww2.health.wa.gov.au/Articles/A_E/Coronavirus/COVID-19-clinical-alerts – We hope to be able to help create consumer-friendly explanations of what these service changes mean and what may need to be adjusted as the scale of the pandemic alters.
RESEARCH IN THE TIME OF COVID-19
WA has a coordinated research response – see the WA Health Translation Network's page here: https://www.wahtn.org/wa-covid-19-research-collaboration/
WA Health Translation Network's Consumer and Community Health Research Network has developed a pool of interested consumers and community members who want to be involved with COVID19 health and medical research projects. They presented at our 20th April  Consumer, carer, community and family representative drop-in session, and you can watch their presentation here. (25 mins)
Keep up with all their latest on the link below:
COVID-19 Consumer and Carers in Research