What would a good palliative care journey look like?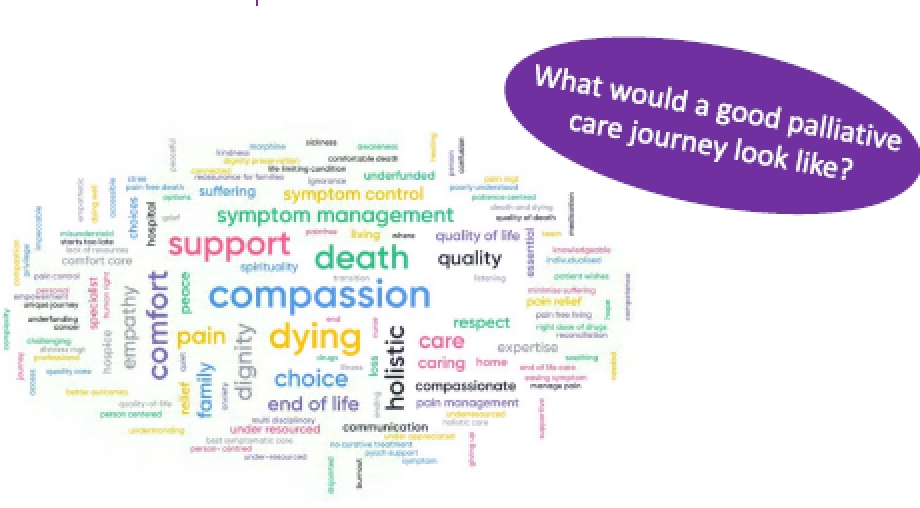 World Cafe Event 3rd December
On 3rd December 2019, the WA Department of Health convened a Palliative Care World Cafe, to explore the question "What would a good palliative care journey look like?" We will post any notes from the session when they are available.
Palliative Care Reforms
Right now, there is a focus on improving palliative care. This is in response to the Joint Select Committee Report on End of Life Choices. The My Life My Choices Report from this committee is a weighty 600 pages – here is a a 16-page summary of the report. Joint Select Committee Chair Amber-Jade Sanderson has commented publicly that whenever there is a focus on voluntary assisted dying in any jurisdiction around the world, more focus and funding is put onto palliative care. And right now there is a focus on palliative care that we need to leverage. There is new funding for services, and a key recommendation from the My Life My Choices report to review palliative care models from a consumer perspective. This is an important opportunity for WA consumers and we are keen to make sure your voice is heard. Please consider registering your interest for the 3rd December event.
Previous event – Palliative Care Summit 24th August 2019
This Summit was convened by the Minister for Health and brought together everyone interested in the delivery of palliative care in Western Australia – Health professionals, general practitioners, palliative care specialists, health consumers and carers. It aimed to shape how we put into practice Recommendations 7-18 of the My Life My Choices Report, the Palliative Care Strategy 2018 – 2028 and relevant Sustainable Health Review Report 2018 Recommendations. It was agreed at this event that it should have been called Base Camp – as there is much work to do across the state to continue to explore and improve palliative models of care.
HCC undertook a short consumer survey to explore people's experiences and views on palliative care which were then presented at this forum. There were 28 responses to the survey presented to those that attended the Summit, you can watch the 7 minute presentation below:
Pip Brennan, Executive Director