The Minister for Health launched the WA Healthy Weight Action Plan 2019-2024 on Tuesday 26 November 2019.
Since 2018, Health Consumers' Council (HCC) has been working in partnership with the Department and the WA Primary Health Alliance to ensure the consumer voice is front and centre of policy and service planning in this area.
HCC believe it is important that the conversations are informed by real experiences of people managing their weight. We sought feedback via a survey as well as holding face to face workshops and inviting people to tell us their stories of managing their weight online. Read a summary of the consumer engagement activities that informed the first phase of this project. HCC also hosted a Community Conversation in February 2019 to look at the work done to date by the Obesity Collaborative. Helen from the Department of Health gave an overview of how consumer input had informed the discussions at the Summit last year, and gave an update about the development of the draft strategies.
A bold plan for change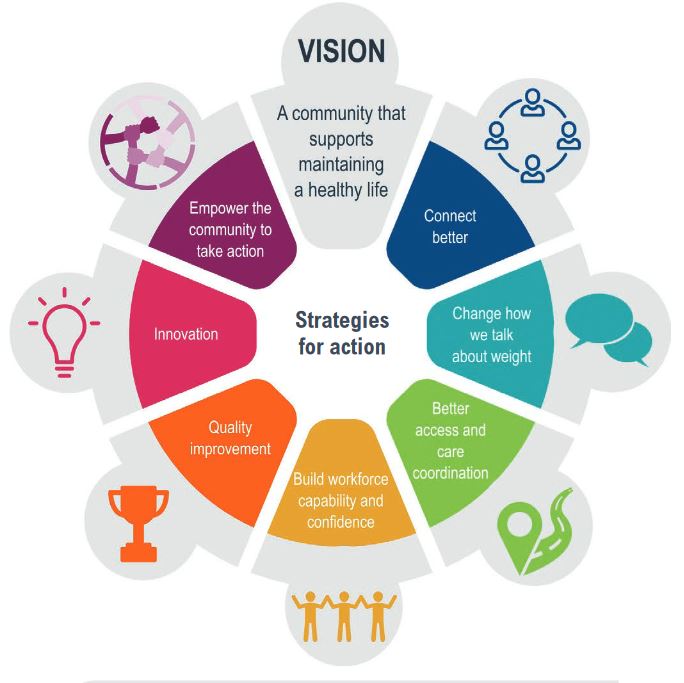 HCC believes the Action Plan outlines a plan that is not "business as usual" for the health system. We are particularly interested in the inclusion of the actions that recognise a new way of working is needed to really impact on this complex health issue. We look forward to the establishment of the WA Obesity Collaborative and the Community of Change that will provide platforms for people with lived experience, health professionals and policy makers to work together to take positive action.
Stories are powerful
Many people shared their stories of managing their weight with us. Some of these stories were included in the Obesity Collaborative – Partners in Change Summit which took place on 17 October 2018. Here is a copy of the presentation that HCC gave as part of the opening session.
Video 1 – Consumer and Carer Perspectives
Video 2 – Parents and Children's Perspectives
We will continue to share people's stories with people in the health system who are working to improve or develop policies or services that will support people to achieve their weight loss goals.
See what people have said in an online brainstorm
We used GroupMap which was set up so that people could anonymously share their feedback about their experiences and comment or like what other people had said.
View the online brainstorm here – when you first access the link you'll be asked for your email address. That's so that you can be sent the link to return and view it again at a later time.
Get involved in the next steps
You can join a private Facebook Group here or join the email mailing list – we will continue to share information about opportunities for being involved as the plan moves into action.
If you've any questions about this project, contact clare.mullen@hconc.org.au or call reception on 9221 3422.