By Clare Mullen, A/Executive Director, 20/03/22
It's all about relationships…
This week I was part of several conversations in meetings where I found myself saying the same thing:
No matter how good each bit of the system is, they're only as good as the relationships between the different parts of the system that make up the whole.
In publicly funded services, there is a strong commitment to high quality services. But what is sometimes (even often) missing is an understanding that those services are often only one part of a person's experience.
I had been reminded about this by a presentation by Fiona McKenzie of Orange Compass in a recent event hosted by the Obesity Collective. (You can watch the video online here)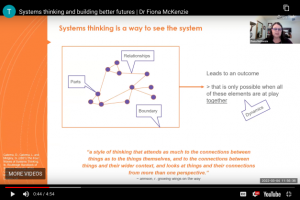 One of the challenges of publicly funded services is that there is often a preference for funding activities that a politician might be able to point to at a critical point in the election cycle. The almost hidden work of building and investing in trusted relationships between services doesn't necessarily fit that criteria. And the more visible work – like networks and forums and other events – can sometimes be misunderstood as not being essential work, because it's not client-facing. And yet, it's critical that services are joined up because the person that's experiencing all those systems ideally lives their life in a joined up way – and will benefit if those services are integrated.
The best thing I've read on this is Radical Help by Hilary Cottam – she describes a number of truly innovative ways of designing services with the person at the centre.
Radical is the word. And if we are to get truly person-centred services, we will need leaders to step up and take some radical action.
Compassion begets compassion
This week I also had the chance to listen in to a presentation by Erin Cotter-Smith – about the importance of recognising and addressing the impact of vicarious trauma on people who witness other people's trauma. She shared some of her own experiences and created space for care givers to learn more about things that might help.
It was a timely reminder about the person on the other end of "person-centred" care.
Healthcare professionals around the world have been under significant pressure with the added burden of responding to COVID-19 for over 2 years. Even here in Western Australia, while we are only now dealing with the reality of living with COVID, we've all been on high alert for its arrival at any time.
In WA the Minister for Health's published survey from August 2021, only 47% of staff across WA Health services agree that "I believe my organisation cares about my health and wellbeing" – to be clear, that's less than 1 in 2 of the people who work in these services. And only 57% believe they are "given the support [they] need to deliver a high level of service to [their] patients/clients/customers".
As someone with a strong interest in the care that patients/clients/customers experience, I'm hoping that someone in WA Health is taking real practical action to listen to staff and implement some new approaches that will see those numbers rise significantly.