The future of 'Let's Talk Culture' seminar series looked bleak after the closure of the Transcultural Mental Health Service. With the closure WA looked set to lose the first-rate seminar series. However, Health Consumers' Council (HCC) are pleased to announce we have won a contract to coordinate three 'Let's Talk Culture' seminars over 12 months!
What Is Let's Talk Culture?
The 'Let's Talk Culture' seminars played an integral role in educating service providers about working cross culturally, specifically in mental health. Mental health is perceived quite differently from one culture to another. For services to deliver effective treatment there are essential aspects which need to be understood.
Let's Talk Culture Background
The 'Let's Talk Culture' (LTC) seminar series aims to assist mental health professionals to work in a culturally responsive way with clients from ethnically diverse backgrounds. These seminars, held three times a year, "(were jointly organised by the WA Mental Health Commission, the Transcultural Mental Health Service at Royal Perth Hospital; and, the Cultural Diversity Unit of the Chronic Disease Prevention Directorate at the Department of Health). Commenced in 2009, the LTC series ended in 2016 with the aforementioned closure.
The series "developed a level of unprecedented popularity and following across Western Australia's service providers, policy makers, researchers, consumers and carers who have a stake and/or interest in transcultural mental health issues. All seminars were typically booked out to full seating capacity (~ 240). Topics that have been covered range from Spirituality, Culture and Mental health, Men, Culture and Mental health to the most recent, Alcohol, Drugs, Culture and Mental Health. (Mental Health in Multicultural Australia (MHIMA)
MHIMA is funded by Mental Health Australia and appears to be in some jeopardy regarding future directions; unfortunately this seems to be a common problem with all things multicultural at present. You can read more about MHIMA here.
Future Of Let's Talk Culture
Taking on the 'Let's Talk Culture' series is a great privilege and we hope the wonderful people involved in initiating and developing the series will continue to be involved. HCC will be working in partnership with the Mental Health Commission and the Cultural Diversity Unit of the Chronic Disease Prevention Directorate at the Department of Health. Keep an eye out for more details, which will be available in the coming months on HCC's website and social media channels.
Lets Talk Culture Seminar Series 2017
October 2017 – Effects of homelessness & lack of mental health support on CaLD individuals
June 2017 – Culturally & Linguistically Diverse Youth & Mental Health Services
'What are the needs of Culturally and Linguistically Diverse young people in WA and which services fulfil those needs?'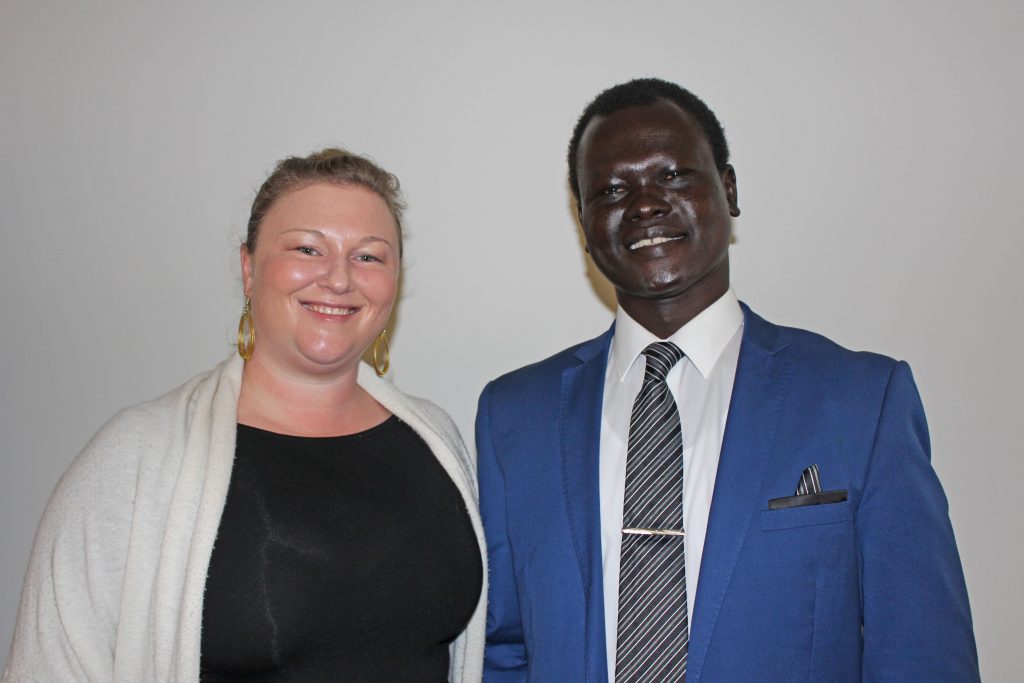 Speakers
Wajok Wutchok – Founder of South Sudan Public Health Forum Inc.
Beth Franca – Cross Cultural Clinician for Child and Adolescent Mental Health Services (CAMHS)
Summary
Majok and Beth gave excellent and informative presentations on the topic, one from a community perspective and one from a practitioner's. They were well received by the audience who were then asked to discuss their thoughts and make recommendations regarding CaLD youth and mental health services. The recommendations will be passed on to relevant policy bodies and agencies and shared via HCC's website. People were also asked to identify potential sources of funding for their recommendation/s.