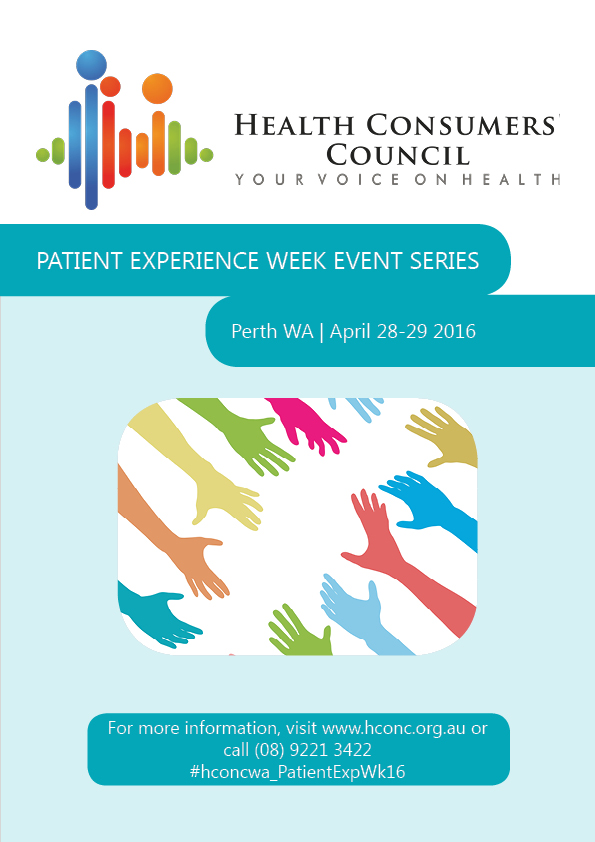 In 2015 the Health Consumers' Council took the decision to begin a tradition of running events during the global Patient Experience Week which takes place annually in the last week of April. We have also shifted our Consumer Excellence Awards to close Patient Experience Week rather than being held at Christmas.
We are very excited to be able to build on the momentum of the National Safety and Quality Health Service Standards, Partnering with Consumers, the current environment of change, reform and re-focus on the patient by bringing you our inaugural Patient Experience Week Event series on Thursday 28 and Friday 29 April. Highlights include; new author Kate Ryder talking about her book, 'An Insider's Guide to Getting the Best out of the Health System' (Kate will have signed copies of her book available for purchase). Professor Michael Greco, Patient Opinion Australia CEO; Dr Karen Luxford, Clinical Excellence Commission of New South Wales, Director of Patient Based Care; Professor Anne Williams, Murdoch University, Chair of Health Research and Helen Fernando, Consumer Advocate and 'Patients for Patient Safety' champion, will present on the latest and best patient experience tools. Click here to book your events now!
Patient Experience Week is an initiative of the Beryl Institute. It is an annual event to celebrate healthcare staff impacting patient experience every day. Inspired by members of the Institute community, Patient Experience Week provides a focused time for organisations to celebrate accomplishments, re-energise efforts and honour the people who impact patient experience every day. From nurses and physicians, to support staff and executive professionals, to patients, families and communities served, the Institute hopes to bring together healthcare organisations across the globe to observe Patient Experience Week.
Patient Experience Week will close with the annual Health Consumers' Council Health Consumer Excellence Awards. Since 1997 the Health Consumers' Council has been celebrating the achievements of the unsung heroes in WA Health, from the administrator to the clinician and to recognise health consumers that go out of their way to make a difference. Nominations are now open, and close on April 15th, 2016.
You can always call (08) 9221 3422 or email info@hconc.org.au for more information.  Find us on Facebook or Twitter. Hash tag #hconcwa_PatientExpWk16