Aboriginal Patient Journey Panel Discussion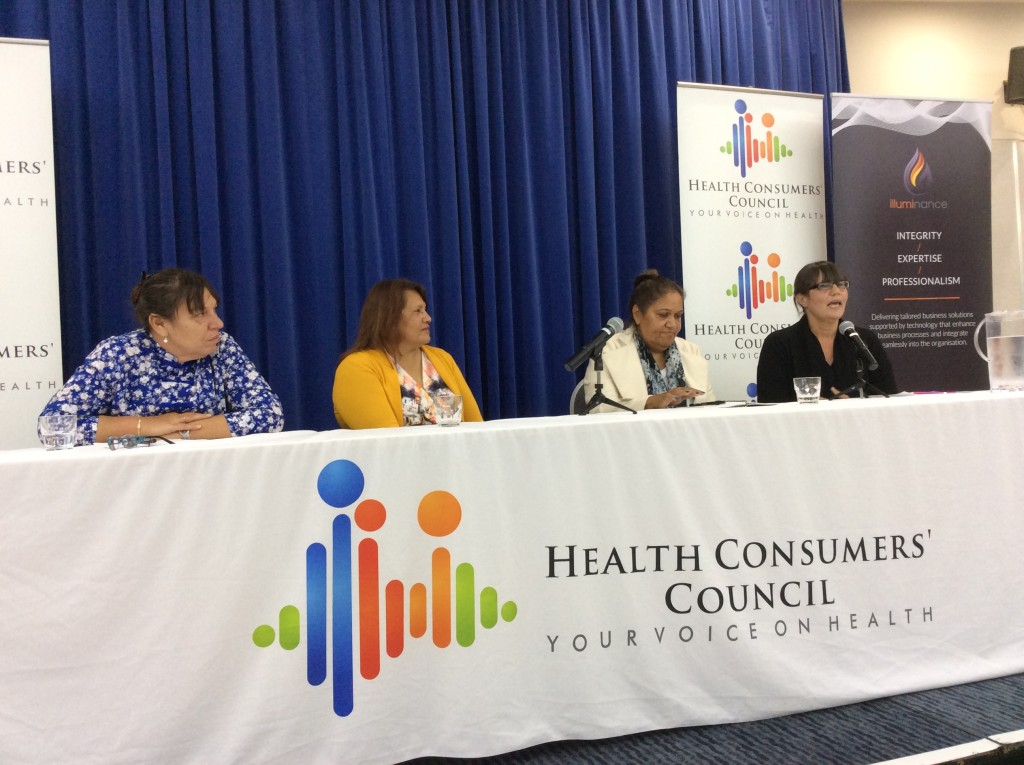 Day Two began with a Welcome to Country from Olman Walley, prior to the Aboriginal Patient Experience Panel. Panellists included WA Health's Wendy Casey who is Director of Aboriginal Health Policy Directorate, Michelle Nelson-Cox, Chair of the Aboriginal Health Council of WA, Consumer Miranda Farmer and General Practitioner and Professor Paula Edgill. The panel was chaired by Glenn Pearson, Head of Aboriginal Research at Telethon Kids Institute. It was an interesting blend of the viewpoints of Government, the Aboriginal Community Controlled Health Sector, a frontline GP and an Aboriginal woman whose story highlights there is still some way to go.
Author Talk – Kate Ryder
Kate Ryder has written a book called An Insider's Guide into Getting the Best out of the Health System. Kate is a Registered Nurse who lives and works in NSW. Her book was launched in early 2016 and covers many useful topics to support health consumers to have a safe health experience. You can find out more about her book here.
Lunch Box Session – Involving Consumers in Organisational Governance
HCC's Pip Brennan, Steph Newell and Louise Ford facilitated this interactive session which reflects the importance of involving consumers at every level of the health service. Key definitions of governance were considered, and the fact that our National Safety and Quality in Health Service Standards one on governance, and two on partnering with consumers underpin all other standards. The audience was asked to provide examples of how consumer partnerships within the governance levels of organisations are occurring or can be planned to be strengthened. The session closed with key points to consider when involving culturally and linguistically diverse consumers in health service governance.
Panel Discussion – Measuring the Patient Experience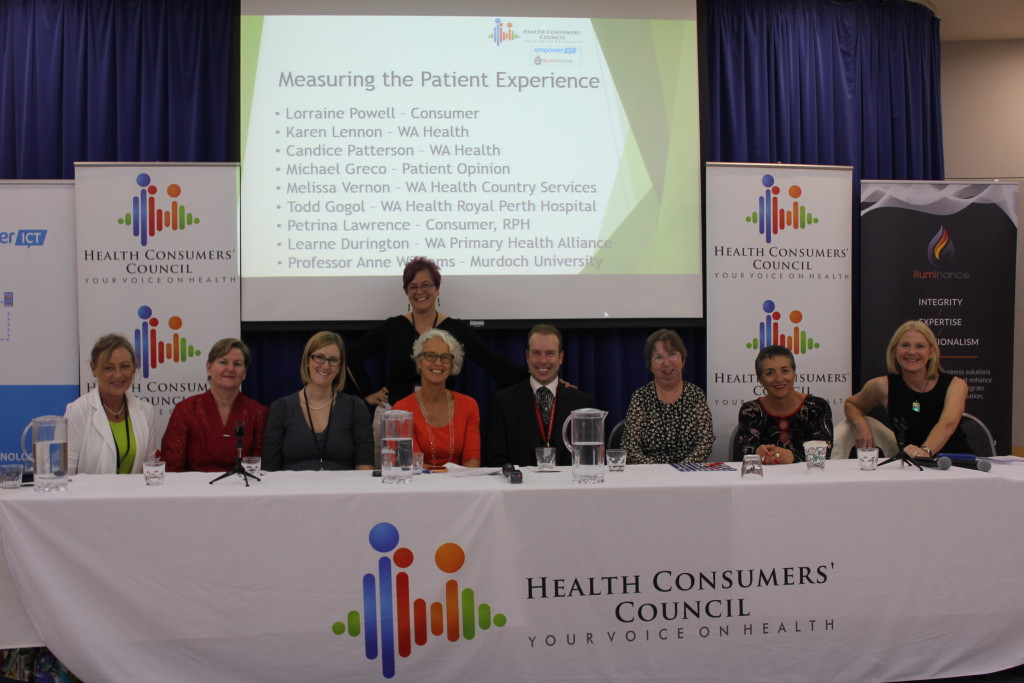 The Final Patient Experience Week panel discussion was on the key topic of how you measure the patient experience. Panellists, from left to right were; Lorraine Powell – Consumer, Karen Lennon – WA Health, Candice Patterson – WA Health, Melissa Vernon – WA Health Country Services, Todd Gogol – WA Health Royal Perth Hospital, Petrina Lawrence – Consumer and Carer, Learne Durrington – WA Primary Health Alliance, Anne Williams – Murdoch University. Missing from the picture is Patient Opinion's Michael Greco who spoke during the discussion but had to leave to catch a plane. The panel discussion was filmed by West Link TV and includes final comments by Majok Wutchok.
Westlink is available to country viewers who receive their Free to Air TV via satellite on Channel 602 on the VAST service. The debate will air on
Monday, Wednesday and Saturdays at 10.30 and 3pm on these dates:
June 6,8,11,13,15,18,20,22,25,27,29.
Health Consumers Council Excellence Awards
Patient Experience Week events concluded with our Excellence Awards. For all the details about the winners and nominees, see this page.