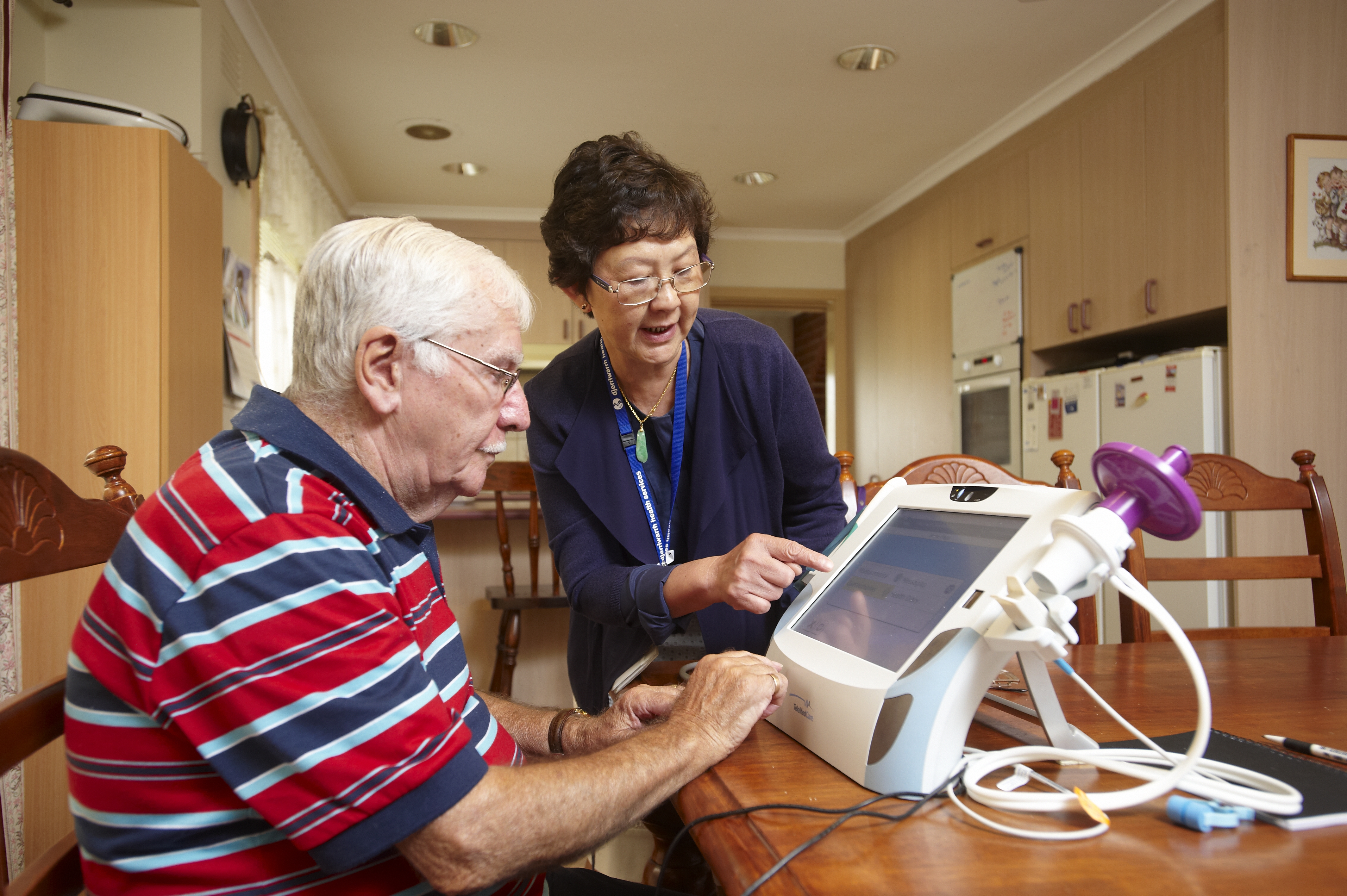 Australia's first large-scale trial of telehealth monitoring chronically ill patients at home reduced mortality by 40% in Bacchus Marsh, Victoria.
It also reduced hospital admissions by 36%, length of stay in hospital by 42% and Medical Benefits Scheme expenditure by 24% through savings in cost of GP visits, specialist visits and procedures carried out.
In a 12 month long trial CSIRO researchers  provided 287 patients with a telehealth device that included participant/clinician video conferencing capabilities, messaging features and the delivery of clinical and study specific questionnaires, as well as vital signs devices to monitor their ECG, heart rate, spirometry, blood pressure, oxygen saturation, body weight and body temperature, with glucometry an optional add-on.
Patients reported improvements in anxiety, depression and quality of life, with many finding that home monitoring gave them a better understanding of their chronic conditions.
Jack Fernihough, a participant in the trial, attributed the telehealth technology to saving his life when it picked up the early signs his heart was under increased stress, allowing him to receive lifesaving surgery.
"In April this year I had a triple bypass and without the monitor we wouldn't have known that there was anything seriously wrong," Mr Fernihough said.
"It found out things about my heart that I wouldn't have known about until it was too late and I'd probably be gone by now."
CSIRO lead researcher Dr Rajiv Jayasena said the 12-month trial enabled chronic disease patients to self-manage their conditions at home through the provision of telehealth services.
"Aged patients with multiple chronic diseases, such as cardiovascular disease, diabetes or chronic lung disease account for more than 70 per cent of our health system expenditure," Dr Jayasena said.
Health workers can assess changes in their patient's conditions remotely and provide appropriate care interventions earlier to help them stay out of hospital.
Djerriwarrh Health Services' Telehealth nurse, Lay Yean Woo, said was a very easy process to monitor her patient's health results daily.
"I can see the information in real-time, I can monitor them, following up with a phone call if there's any issues with their health," Ms Yean Woo said.
"Also with the time that has been freed up I can look after more new clients being referred to me."
Dr Javasena said more than 500,000 Australians aged over 65 would be good candidates for at-home telemonitoring.
Telehealth returned $5 for every dollar it cost. Applied over the country it would save the health budget more than $3 billion a year.
By Frank Smith – HCC Blog Contributor
---
Do you have a chronic condition and live in a remote region of Western Australia?
Click here to find out more about WA Telehealth services.
Do you live in a remote region of Western Australia and require health advocacy?
Health Consumers' Council (WA) (HCC) Advocacy Service can help you navigate the health system and help you understand and support your healthcare rights. HCC can help you find and access health services and assist you in providing feedback about your health experience. This free service is available to anyone in WA. HCC has onsite Telehealth video conferencing equipment available to assist consumers in regional areas. Call (08) 9221 3422 or FREECALL 1800 620 780 to speak to an advocate.