On 23rd August 2018, the My Life, My Choices report was tabled at the Legislative Assembly and Legislative Council in WA. The report is 600 pages – a 16-page document of the Government's response to the report is available here. There are 23 Recommendations grouped into 3 distinct areas:
Advance Care Planning, including Advance Health Directives (Recommendations 1 to 6)
 End-of-Life and Palliative Care (Recommendations 7 to 18)
Voluntary Assisted Dying (Recommendations 19 to 23).
In 2018, the WA Palliative Care Strategy was released whose vision is "to improve the lives of all Western Australians through quality end-of-life and palliative care."
The Sustainable Health Review Final report was released in April 2018, and Recommendations 9 and 14 in particular address end-of-life care.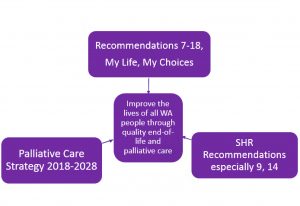 On Saturday 24th August, there will be a WA Palliative Care Summit convened at the Perth Exhibition and Convention Centre. This is an opportunity to bring together everyone interested in the delivery of palliative care in Western Australia – Health professionals, general practitioners, palliative care specialists, health consumers and carers. It aims to shape how we put into practice Recommendations 7-18 of the My Life My Choices Report, the Palliative Care Strategy 2018 – 2028 and relevant Sustainable Health Review Report 2018 Recommendations. Attendees are encouraged to share their experiences to provide insight and influence the provision of high quality palliative care for all Western Australians. It is a partnership event with Palliative Care WA, WA Country Health Service, WA Primary Health Alliance, Palliative and Supportive Care Education and the Health Consumers' Council of WA.
An additional session will be held by video conference from multiple sites across regional WA for those unable to travel to Perth on Monday 19 August from 10am to 1.00pm.
Would you like to attend the Summit? Please register here.
Breakfast starts at 7am (choose "with breakfast" when you book)
The Summit starts at 9am (choose "without breakfast" if you just want to attend the Summit)
Register Here
Please note that the registration form requires you to complete the job title and place of work. You can just complete "Consumer" or "Carer" for both Job Title and Company/ Organisation. For address you can complete your own address or write the words "Home Address" if you don't want to complete this information. You can repeat your home number or mobile number for Work Phone.
Would you like to share your thoughts on Palliative Care? Complete the short survey.
Complete the survey here
This short survey is designed to capture the thoughts of every day Australians about end-of-life choices and palliative care. The anonymous responses will be collated and presented at the Summit by Pip Brennan, Executive Director of the Health Consumers Council. You can preview the survey questions here.