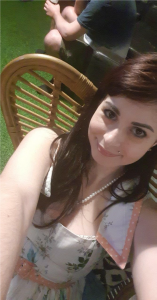 By Rebecca
Throughout my twenties, I had heard story after story from some of my friends regarding the joys of growing older. Self-confidence. Self-assurance. Self-love. Caring less about the opinions of those who do not matter. Growing to appreciate those who do. I looked forward to entering my third decade.
Six weeks after my thirtieth birthday my world came crashing down.
Friday October 24, 2014 will be forever etched into my mind. It was a beautiful spring day. I happily woke up early with plans to go shopping with my best friend for her wedding dress. I did have an appointment scheduled with my GP later that day, but I decided I would cancel. I was convinced the MRI that I had two days before to investigate some odd seizure-like episodes would return with nothing out of the ordinary. I counted the minutes down until I could call to change my appointment.
However, the clinic receptionist called me before I could get to the phone. A courtesy call to ensure I was still coming in that afternoon, she said. As a former medical receptionist, I read between the lines. Something had been found.
I was diagnosed with a tennis ball sized Rosette Forming Glioneuroma of the Fourth Ventricle in the Cerebellum/Brain Stem area. The Radiologist who wrote the report had spoken to my doctor. An atypical appearing tumour – the like of which he had not seen before – had triggered his curiosity, leading to further investigation.
Understandably my neurosurgeon was frustrated that a Radiologist had taken the liberty to give his professional opinion without additional testing. Interestingly the biopsy taken during the resection confirmed the thoughts of the Radiologist.
Two weeks later I was admitted for a craniotomy that went for ten hours. The sheer size of the tumour, along with evidence of multiple bleeds within, had deemed surgery a priority. According to my parents I passed all tests with flying colours to the point my dad had
checked that the surgery had gone ahead.
Early the next morning, tragedy struck again. At six a.m I was rushed into emergency surgery as a result of a cardio-vascular accident (in simple terms, a stroke) in the same area. My family were alerted and asked to say their goodbyes. My life hung in the balance.
I was left completely paralysed, unable to speak, blind, and with vertigo so severe I could not move, look, or lay on the right for six months. My neurology team held little hope for my recovery. My parents were given information on having me admitted as a permanent
resident to a nursing home. On the delivery of the news that there were no expectations of recovery my mother dissolved into tears. My dad, a short placid man, yelled "YOU DON'T KNOW MY F***ING DAUGHTER" and stormed out of the meeting room taking my
inconsolable mum with him.
I spent approximately a month in ICU and was eventually moved to a Head Injury Rehabilitation Unit after my parents regularly refused to have me placed in a nursing home. Rehabilitation felt slow. Re-learning every single little thing again – from brushing my teeth to reading, to driving – was incredibly laborious.
Learning how to speak again was probably the most difficult. Not only did I have to learn to move my face and mouth correctly, pronunciation, intonation, and where to pause. When I am extremely fatigued, I begin to slur. I am often the last to hear it. My loved ones
know that is a sign I desperately need a nap.
I learned to how to write again after my support worker – a keen artist – and I had a chat about hand sewing. In my previous life, I was trained as a fashion designer. Sewing, knitting, crochet are some of my interests.
My rehabilitation continues to this day. Fatigue management is what myself and my Occupational Therapist are working on. Since the surgeries, I struggle with neurological fatigue. Chronic fatigue has been my constant companion for many years. Previously I was
able to manage it effectively, however, the combination of the two can keep me bedbound for weeks.
Therapy has been a fantastic addition to my rehabilitation especially as it deals with my grief. Losing every single little thing that made me, me has been the most traumatic of all. The moment my brain began to haemorrhage is the moment my life splintered into a million pieces. The future I had planned on was no longer attainable. Career – I was working in Oil and Gas construction – gone. Family – shattered. Relationship – destroyed. The emotional fallout on my loved ones is still evident now.
After the first MRI to check for regrowth, another blow fell. My neurosurgeon delivered the devastating news that the tumour was still present inside the Cerebellum. This time it was deemed inoperable. I remember thinking to myself this journey is a nightmare that will not
end. Two subsequent tumours have been located on the Brain Stem and also deemed inoperable.
Fortunately, the regular MRI's have shown the tumours – Beryl, Meryl, and Cheryl – to have no evidence of regrowth. Due to the rare nature of the Rosette Forming Glioneuroma, there is no effective chemotherapy treatment available. My neurosurgeon is of the opinion
that radiation may not be effective and therefore better to not proceed in the unlikely event that the tumours mutate to Glioblastomas.
Thankfully after an incredible amount of hard work, practice, and tears, the physical deficits appear negligible. Those who have not known me before this journey have no idea that I have fought a horrendous battle. Nor do they realise that the war continues, and will forever continue.
I am currently studying to be a life coach. I speak to clinicians in the public health sector and share my story at neurological support groups around the State. I serve as Secretary on the Board of the Health Consumer Council (Western Australia).
It has been almost five years since my life irrevocably shattered into countless fragments. Much like the art and craft I enjoy so much, I am daily reconstructing those fragments into a masterpiece of my own creation. I will arise more formidable and more beautiful than I
was before.