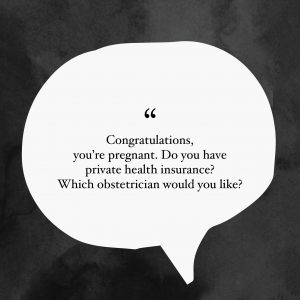 By Pip Brennan, Health Consumers' Council Executive Director
This week, the I have the honour as the Health Consumers' Council Executive Director to be guest tweeter on the Croakey @WePublicHealth page for the week of 15th July 2019.
For the first tweet I thought it only polite to introduce myself, and it got me to thinking again – why am I here? Why am I in this role? Why did I choose the topic of Informed Consent this week? In many ways informed consent is at the heart of most health complaints, and is a core part of why I believe in the importance of the work of the Health Consumers Council.
My passion for informed consent started from this GP conversation that happened to me and I would suspect pretty much every pregnant women in Australia:
GP: Congratulations, you're pregnant! Do you have private health insurance?
Woman: Yes
GP: Which obstetrician would you like?
This is not an informed consent conversation. Why not? Because there is no mention of midwifery-led services here. There is no nuanced conversation about the evidence-based models of care that note that if you are low risk, you don't actually need an obstetrician.
Like many people, my first real adult interaction with the health system was when I was pregnant. It really got me thinking, why is it so hard to access evidence-based models of care because they happen to be midwifery led? In my nearly twenty years as a consumer representative, I don't believe this initial GP conversation has shifted in the way I hope it will in time.
I also think this type of conversation is by no means unique to maternity care, and that the path from the GP to a surgical specialist is short, with not enough detours past midwifery, nursing and allied health professionals. Not so long ago, my partner came off his bike and attended a GP. The advice was that it possibly was a full thickness rotator cuff tear in his shoulder, and surgery was required. However, the physiotherapist he went to noted it was a partial tear and gave him exercises. It healed beautifully over the next six to eight weeks without any need to trouble the surgeon.
Don't get me wrong, I am very committed to the importance of having a really good GP that knows you over the course of your life, and here at the Health Consumers Council we regularly advise consumers to invest time in finding the right GP. I am very attached to my GP and she is a really key part of my wellness plan. But GPs are usually the gateway to the path of care we can travel, and it's important that we choose the right care for our circumstances. The consumer always pays the ultimate price for their own health care choices.
Twenty years ago, after much research and some very good luck at stumbling across a birthing centre in a local hospital, plus the grace of everything going well on the day, I was able to have the drug free delivery I was hoping for. I have never forgotten the day my daughter was born. The medical and midwifery staff would have gone home at the end of the shift and likely not given it another thought.
In short, informed consent is a fundamental consumer right. And to exercise that right, we need to know that a) it's OK to ask questions, and b) it's also OK to say "can I think about this" or even "no" to suggested treatments.
Pip Brennan is Executive Director of the Health Consumers Council in WA, and independent, not for profit organisation dedicated to ensuring the consumer voice is at the heart of health policy, service planning and review. Pip has worked in the community sector for the last 18 years. Inspired by her own experiences of the confusing maternity care system, Pip initially volunteered as a maternity consumer representative in a range of roles. She began her paid health career as an Advocate working at the Health Consumers' Council (HCC) from 2006. She has been a conciliator of health complaints, a health NGO professional and always a firm believer in the value of consumers being at the table. She took on the role of Executive Director of the Health Consumers Council in WA from 2015 and was a panel member on the state's recent Sustainable Health Review.