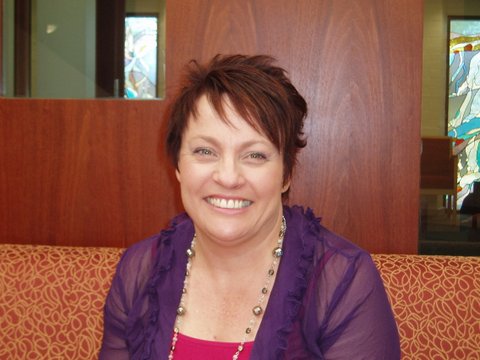 Lucy Palermo | Marketing & Communications Coordinator | Health Consumers' Council (WA) Inc
This week I sat down with Sandy McKiernan, Cancer Information and Support Services Director at the new Cancer Council WA offices in Subiaco, to discuss the upcoming August Community Conversation in partnership with Health Consumers' Council (WA) and Carers WA, 'After cancer treatment ends – Where to from here?'.
Why are you holding the community conversation?
Cancer Council WA has a strong commitment to engaging with the community. My division and I provide a direct service to people affected by cancer; be that cancer patients, carers or their family and their children. We feel really strongly about having opportunities for meaningful conversations. That is why having Carers WA and Health Consumers' Council WA involved in this meeting is really important.
It is not unusual that, when someone is diagnosed with cancer, their partner is also suffering from a chronic condition. This makes it all the more difficult to have support in the home during treatment. This is when our services can be invaluable by providing them and their family with support.
What services do Cancer Council WA offer?
Cancer Council 13 11 20 service is there to support consumers, carers and family members who are affected by cancer. Our metro team and our regional teams of registered nurses with oncology experience can provide information and support on cancer and cancer-related issues. If we don't provide the service they need, then our team can connect consumers to other providers that do.
Cancer Council WA want to engage with consumers for which we provide a direct service. We enjoy the opportunity to speak to, assist and support consumers who are affected by cancer.
What are the key outcomes you would like to achieve by holding this meeting?
We want to identify the gaps; What difficulties have they experienced after treatment? How can we continue to support them? What challenges have they faced? Are our current services meeting their needs? Were or are they being well supported?
We value any opportunity to work with those with lived experience. To be able to gain feedback to improve our services, is priceless.
Who can attend this meeting?
The meeting is open for those who are still receiving treatment for cancer, their carers and family; and those who have ceased treatment, their carers and family. It is also important to remember that carers and family members have a lived experience with cancer too.
With the state elections coming up, the voice of the people has become all the more important. As strong advocates for good public policy in cancer, we want to find out what is the voice of the people. We know there are system issues, but gaining a better understanding of the lived experience and what consumers believe could help changee things, is important.
Is there anything more you would like to add?
It would be fantastic if we could attract future consumer representatives that would be willing to talk about their experience in a more formal setting. There is strength in talking about cancer and, with an increase of consumer representatives, we can grow our interactions with other agencies, increase our network and continue to champion improvements to cancer treatment in the WA health system.
We hope people are willing to share and use this opportunity so that we can discover what is important to them.
---
Have you been affected by Cancer?
Cancer Council WA, in partnership with Health Consumers' Council (WA) and Carers WA, invites those who have been affected by cancer, their family and carers to share their real life challenges regarding life after cancer at a Free Community Conversation on 24th August, on living well after cancer treatment. Click here for further details.